Connecting a Windows Device to the ACM Wireless Network
Menu options and network settings may differ based on device and version of Windows.
---
Before you start:
You must be aware of and abide by ACM Technology Policies.
You will need your ACM Self-Service credentials in order to connect to ACM Wi-Fi.
*If you are not a student or ACM Faculty/Staff member, you may connect to the ACM Guest Network
---
Right-click the Wireless Icon from your taskbar in the bottom right corner, Or click the Windows icon in the bottom left corner, select the Settings icon (gear), then click on Network & Internet
Under Change your Network Settings, choose Set up a new connection or network
Select Manually connect to a wireless network then click Next
Select ACM

Enter the following:

Network name: ACM
Security type: WPA2-Enterprise
Encryption type: AES
Make sure Connect Automatically box is checked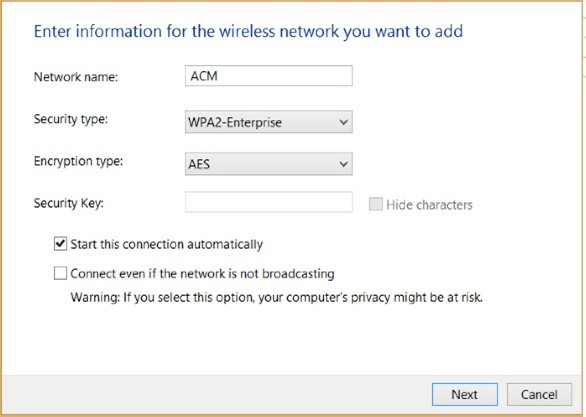 Choose Change connection settings
In the ACM Wireless Network Properties window:

Click the Security tab
Uncheck Remember my credentials for this connection each time I'm logged on
Click Settings (above Remember credentials…checkbox)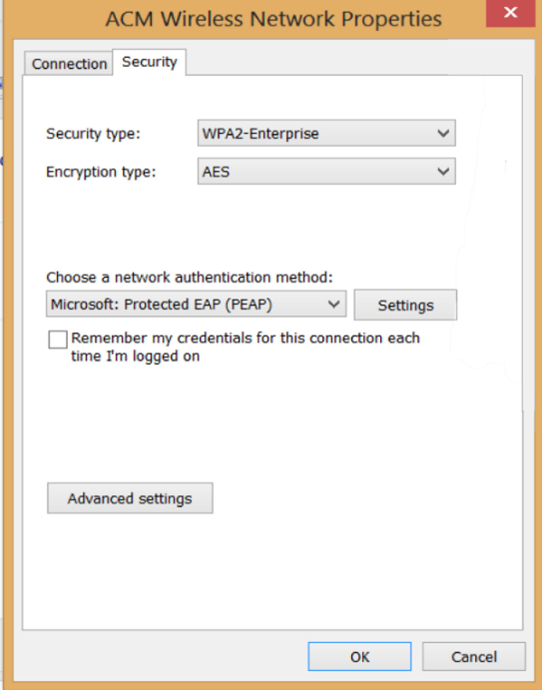 In the Protected EAP Properties window:

Uncheck Verify the server's identity by validating the certificate
Click Configure (next to Select Authentication Method)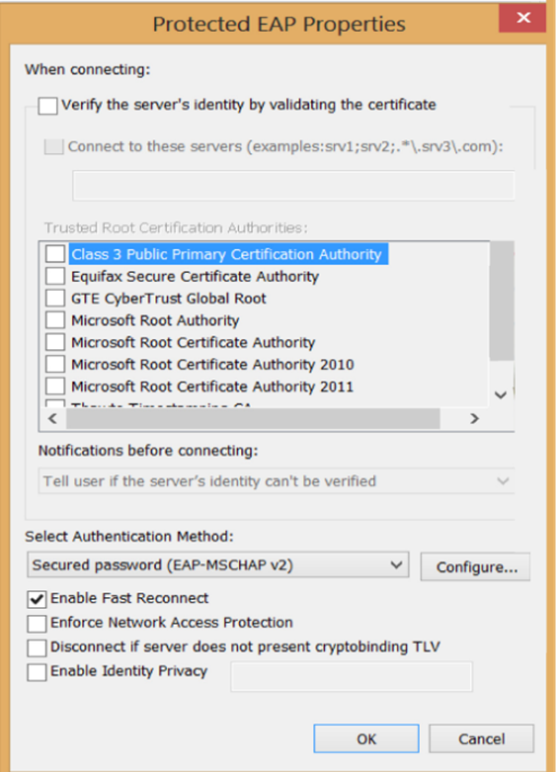 In the EAP MSCHAPv2 Properties window:

Uncheck Automatically use my Windows log on name and password (and domain if any)
Click OK
Click OK again on the Protected EAP Properties window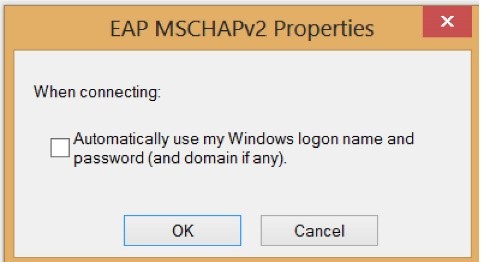 This brings you back to the ACM Wireless Network Properties window
Click on the Advanced Settings button (bottom left)
In the Advanced Settings window:

Check Specify authentication mode
Select User authentication from the dropdown menu
Click Save credentials button
You will be prompted for a username and password. Enter your ACM Self-Service username and password.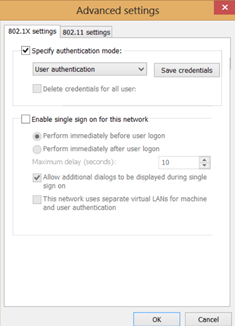 Click OK in the Advanced Settings window
Click OK in the ACM Wireless Network Properties window
Click Close in the Manually connect to the wireless window
Close the Network and Sharing Center window
The network icon should now indicate that you are connected
*This process may take a few minutes. If your icon does not change to indicate you are connected, click on it, choose ACM from your Wi-Fi list, and click Connect.

View/Download PDF
---
If you are having trouble getting connected, please contact the HelpDesk at 301-784-5444, email
ithelpdesk@allegany.edu
, or go to room T115 in the Technology Building for assistance.