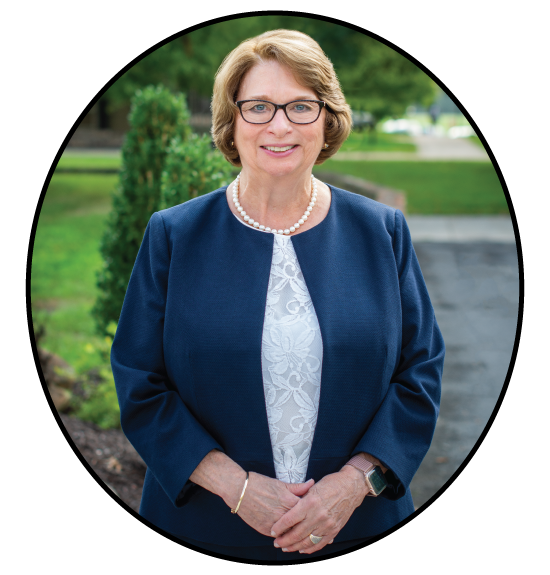 Dr. Cynthia S. Bambara
---
Appointed by the Board of Trustees, the President is the chief executive officer of Allegany College of Maryland.

Dr. Cynthia S. Bambara was appointed ACM's fifth president in 2011. She is the College's first woman to serve as president.

During her tenure, Dr. Bambara has spearheaded ACM's major efforts to create:
A partnership-driven Western Maryland IT Center of Excellence;
a Five Star Chapter Level of Phi Theta Kappa Honor Society;
a Title III Grant to develop a formal Advising Center; and
the Western Maryland Works Makerspace.
Dr. Bambara is a veteran community college administrator. She was previously an interim president of Central Virginia Community College and the Vice President of Student Success at Lord Fairfax Community College.

She received her Ph.D. in Community College Leadership from Colorado State University, her M.Ed. in Rehabilitation Counseling from the University of South Alabama, and her B.S. in Psychology from Juniata College.

Dr. Bambara is a Middle States Commission on Higher Education Evaluator and Team Chair, a Community Colleges of Appalachia Board Member, and a Maryland Association Community Colleges Executive Committee Member.

She is a 2012 graduate of Leadership Allegany. Within the region, Dr. Bambara is involved with a variety of organizations, including:
Allegany County Chamber of Commerce (Board Member)
Bishop Walsh School (Board Member)
Bridges to Opportunity Steering Committee
Cumberland Rotary Club (Board Member and Past President)
Greater Cumberland Committee (Executive Committee Member and Education Workgroup Chair)
UPMC Western Maryland (Community Advisory Board Member)
Phi Theta Kappa International Honor Society (Advisory Board Member)
---
President's Communication
Accreditation
Allegany College of Maryland is accredited by the Middle States Commission on Higher Education(MSCHE), 1007 North Orange Street, 4th Floor, MB #166, Wilmington, DE 19801; 267-284-5011. The MSCHE is an institutional accrediting agency recognized by the U.S. Secretary of Education and the Council for Higher Education Accreditation. MSCHE offers the Statement of Accreditation Status for Allegany College of Maryland on their website.

The College is also accredited and approved for operation by the Maryland Higher Education Commission (MHEC), 6 North Liberty Street, Baltimore, MD 21201; (800) 974-0203. The Pennsylvania Department of Education has granted certification to Allegany College of Maryland campus in Bedford county and to the academic programs they offer.

Reports conducted by Allegany College of Maryland for MSCHE are stored with the Office of Institutional Effectiveness, Research, and Planning.