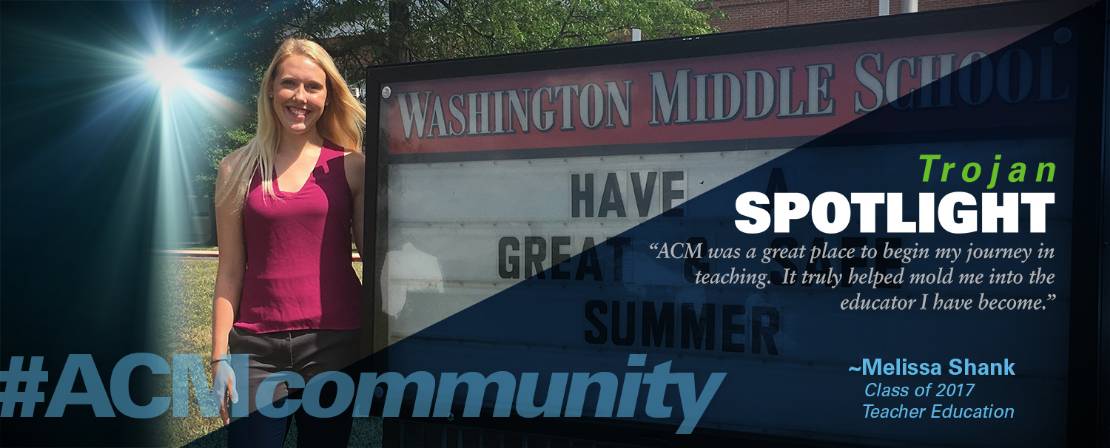 At a Glance
Name:
Melissa Shank
Year:
2017
Major:
Teacher Education
---
"I am absolutely confident that beginning my college education at ACM was the best decision I could have made. The supportive faculty and staff instilled knowledge and confidence in me that has helped mold me into the teacher I always dreamed I would be."

---
Q & A
Why did you choose your major?
I've known that I wanted to be a teacher since early elementary school. I used to play school with my stuffed animals and would tutor my nieces and nephews since I was a middle school student. It has always been my passion to be someone students can depend on, trust, and know is there for them both in and out of the classroom.
What advice would you give to students interested in your career path?
Only you can decide if teaching is for you. Take every opportunity offered to you to be involved with students and get all of the experience that you can. The best way to become the best teacher candidate possible is by soaking in all the knowledge you'll be offered during your internships, college courses, and outside opportunities.
What was your overall experience at ACM?
ACM was a great place to begin my journey in teaching. I knew that I wanted to stay local and teach in Allegany County so my experience through ACM helped me build a foundation that has lasted me through graduating with my Bachelor's degree. My professors, advisors, and internship experiences made me feel confident and happy with my college and career choice. ACM truly helped mold me into the educator I have become.
Who was your favorite ACM faculty/staff member? Why?
This is an extremely tough question! So many amazing staff members had an impact on me throughout my time at ACM. I want to thank Melody Gaschler, David Jones, Maureen Brown, Robin Seddon, and all the wonderful ladies I got to work with in the Admissions office. A special thank you to Tara Devore and Debbie Hardinger for their continuous support after my dad passed away and working tirelessly to help me make it through that tough time to graduate and apply for scholarships to transfer for my bachelors degree.
What is your greatest achievement in your career?
Seeing as this upcoming school year will be my first year as an official teacher in Allegany County I will talk about my internship experience. The greatest achievement thus far is seeing the smiles and genuinely happy faces of the students when I arrived at school. Knowing that I built that rapport with students and relationship of love and trust is a key component to why I do what I do! I am excited to see what adventures await me this school year.