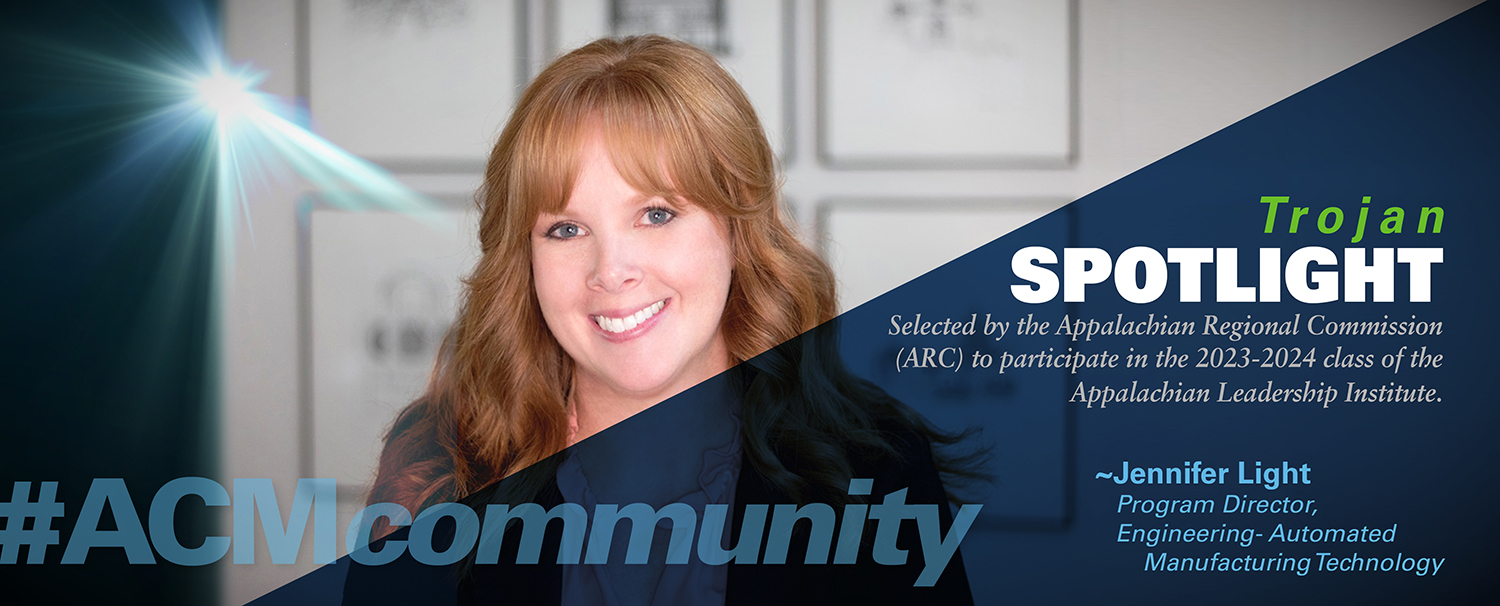 At a Glance
Name: Jennifer Light
Current Position: Program Director for Engineering-Automated Manufacturing Technology
---
The Appalachian Regional Commission (ARC) selected Allegany College of Maryland (ACM) Program Director Jennifer Light, PhD, to participate in the 2023-2024 class of the Appalachian Leadership Institute.
The Appalachian Leadership Institute is a free leadership and economic development training opportunity for individuals who reside or work in Appalachia. The 2023-2024 class comprises a diverse network of professionals representing all 13 Appalachian states and a wide spectrum of perspectives and sectors, including tourism, healthcare, education, civil service, and more. Light is part of the fourth class of fellows.
Light begins a nine-month curriculum anchored by six multi-day, skill-building seminars across the Appalachian region. They focus on each of ARC's strategic investment priorities that aim to strengthen economic and community growth in Appalachia. Through the Appalachian Leadership Institute seminars and best practice reviews, fellows prepare to:
Design effective economic development project proposals
Integrate community assets into long-term economic development strategies
Locate and access investment capital from a variety of public and private sources
Prepare competitive applications for public grant opportunities
Use expanded connections and leadership skills to create strong regional partnerships.

"Growing and supporting the next generation of Appalachian leaders is integral to the future success of our region," said ARC Federal Co-Chair Gayle Manchin. "I send my sincerest congratulations to the newest round of Appalachian Leadership Institute fellows, as well as my appreciation for all the work and passion they put into helping their communities thrive and compete."
"We are thrilled that Dr. Light has been selected to participate in the Appalachian Leadership Institute Class of 2023-2024. Jennifer is an outstanding employee who consistently goes above and beyond in her work to benefit ACM and our community. Having firsthand knowledge of the unique disparities that our region faces; I can think of no one more prepared to be a leader in tackling these issues than Jennifer," said ACM President Cynthia Bambara.
Appalachian Leadership Institute fellows were selected via a competitive application process to reflect the Appalachian region's wide range of economic development challenges, opportunities, and strategies. Upon completion of the program, Light becomes part of the Appalachian Leadership Institute Alumni Network, a peer-to-peer working group of experts helping foster collaborative solutions that will build a stronger future for Appalachia.
Light is the program director of industrial technologies at the Western Maryland Works Training Center and Makerspace at Allegany College of Maryland. She develops academic programming and connects local industry employers with educational programs at ACM. Light previously worked in strategic planning, commercial district revitalization with Main Street America, and grant writing. She received a doctoral degree in human and community development from West Virginia University and a bachelor's in architecture from Virginia Tech. She is a lifelong resident of Appalachia. Light resides in a small town in West Virginia with her spouse, Nathan, and their daughters Caroline and Annie.
The Appalachian Leadership Institute is a comprehensive regional leadership training program developed by the Appalachian Regional Commission in partnership with the University of Tennessee, Knoxville; The Howard H. Baker Center for Public Policy; Tuskegee University; and Collective Impact. Learn more at www.arc.gov/leadership.