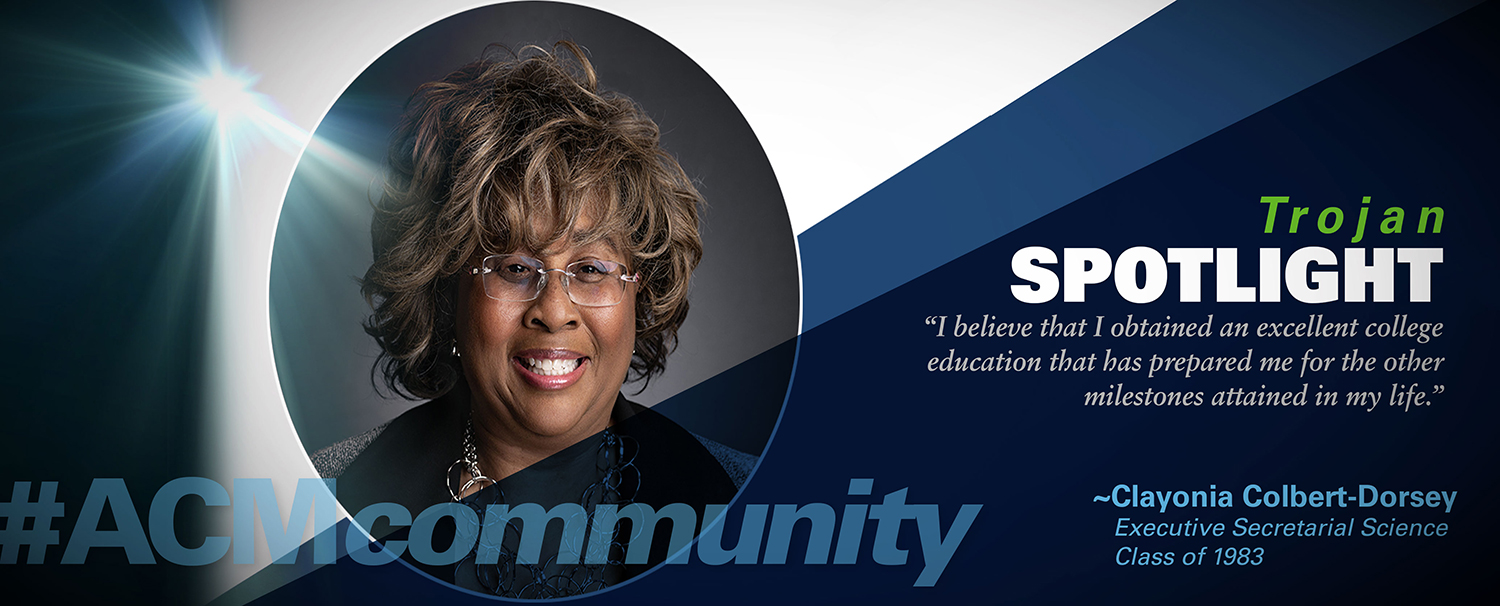 At a Glance
Name:
Clayonia Colbert-Dorsey
Major:
Executive Secretarial Science
Class of:
1983
---
Q & A
Why did you choose your major?
I choose the major of Executive Secretarial Science because my ideal work setting was one where I could quickly obtain a degree and then work my way up the ranks to increased levels of professional expertise. I thought a two-year Associates degree in a marketable profession was the perfect choice.
What advice would you give to students interested in your career path?


Attending Allegany College at the time I did, instilled much pride in the profession of secretarial science. While I was enrolled, there were some real legends among the faculty! Margaret Zembower, Chares Catherman (of the famed Katherman's Business School), Keyoung Gill, Peggy Hughes – all come to mind. As students, we were given not just educational fortitude, but instruction on how to walk, how to talk, how to dress—everything was centered around the importance of professionalism.

Unfortunately, there are those in business who do not give the profession of administrative professionals the deserved respect. Those who decide to pursue this career path are truly the backbone of many companies. Never doubt your capabilities, your worth, and always stand-up for yourself!

What was your overall experience at ACM?
My learning experience at ACM was excellent! I believe that I obtained an excellent college education that has prepared me for the other milestones attained in life. ACM has become a "heritage" in our family, with two of my three siblings, one niece, and countless other extended family members successfully matriculating at ACM. I proudly tell folks that I am an ACM alumnus and still highly recommend the college today.
Who was your favorite ACM faculty/staff member? Why?
During my enrollment, Dr. Margaret Zembower (rest her soul), was the department chairperson and my faculty advisor. I felt honored to have her as my faculty advisor. When I speak of professionalism and polish, Dr. Zembower and all of the other faculty she hired for the department exemplified those traits. She was fair, honest, and showed interest in not only her students but also in ensuring that the academic program was top-notch. The program was so well-regarded that recruiters from the Internal Revenue Service came to solicit folks for possible positions. This resulted in me and four other Allegany Graduates (Linda Cole, Pamela Stephens Pierce, Joan Rogan, and Margie Clark) all moving to the Washington DC area to work full-time for the agency. Our skillsets were higher than most entry-level folks coming in and all four of us quickly advanced through the ranks and/or went on to other higher-level positions outside the IRS.

What is your greatest achievement in your career?


Although I have moved out of the ranks of executive secretarial science, I recognize it as the place where the foundation for my business acumen was well entrenched. The wealth of the knowledge attained by my start at Allegany is seen throughout my work. At the IRS, I was promoted after only a few months in my starting position; later I went on to work in state government, as well as academia; oftentimes, I was offered positions immediately after the in-house interview. I spent a number of years working at Howard University in Washington, DC. Again, because of my ACM foundation, I was: the first Staff Mecca Excellence Award Recipient, as well as the first staff member in my College to be named co-chairperson of a major fundraising/anniversary initiative, among other pursuits.

Currently, I work as a non-profit executive. Without a doubt, I believe this transition was made possible, because of the start I gleaned in strong skill-sets first gleaned at ACM.

Due to its industry reputation, my greatest achievement thus far is being selected as a scholar in the American Society of Association Executives' (ASAE) 2019-2021 Diversity Executive Leadership Program. The program is highly competitive, taking only 12 candidates from across the country (and in 2019-2021, the first international member from South Africa), every year. Given the current landscape, fluency in areas related to diversity, equity, and inclusion are critical. This fellowship program has a reputation for contributions at that level. Therefore, through this initiative, I hope to further engage in ways to make a visible difference in the lives of others.

Additional comments:


I would not change it for the world! Hanging in the Student Center between classes was where it was at! I learned to love and still crave them to this day, Pizza Burgers – my first ever was eaten at ACM.
---
Biography: Clayonia T. Colbert-Dorsey
The eldest grandchild of United States Congressional Gold Medal Recipient and Tuskegee Airmen, William A. Colbert, Jr., Clayonia Colbert-Dorsey was born and raised in Maryland, among the mountains of Appalachia. Her familial roots and growth as an African-American woman were enriched by living beneath the "wings" of a historical icon, her grandfather. Diagnosed with unilateral retinoblastoma (a rare/often-malignant cancer) at the age of two, Clayonia embraced life beyond fear; learning that every day of our existence takes courage. Accordingly, she believes in words by Ralph Waldo Emerson, "to know that even one life has breathed easier because you have lived . . .this is to have succeeded."
Embracing the above life journey, a commitment to Servant Leadership was forged. Clayonia has gone on to hold positions in both federal and state government, as well as academia. Currently, she serves as Manager, Continuing Education Provider Services, for the American Speech-Language Hearing Association (ASHA), where she manages a caseload of over 110 continuing education groups from across the United States and Canada. With a volunteer heart, Clayonia is a member of the American Society of Association Executives (ASAE); and currently serves as Chairperson of ASAE's National Capital Area Advisory Council. Recently she was selected as a 2019-2021 ASAE Diversity and Executive Leadership Program Scholar. Additionally, she completed the ASAE Certificate Program in Association Management and was a member of the ASAE Future Leaders Class of 2015. Clayonia is also a member of the East Coast Chapter of Tuskegee Airmen International and serves on the Board of Trustees for her church, White Rock Independent Methodist Episcopal. She is an avid writer and speaker, having made countless educational/motivational presentations.
Clayonia attended Allegany College of Maryland, earning an Associate Arts Degree in Executive Secretarial Science. After years of work, she entered Nyack college, pursuing a Bachelor's study in Organizational Management, where she earned honors and was inducted into the Omicron Psi National Honor Society. She is the daughter of Anna (Hudson) and William Colbert, of Cumberland, MD. Clayonia resides in Gaithersburg, Maryland with her husband Neal; they are the proud parents of two children, Duaeno and Aynia Dorsey.