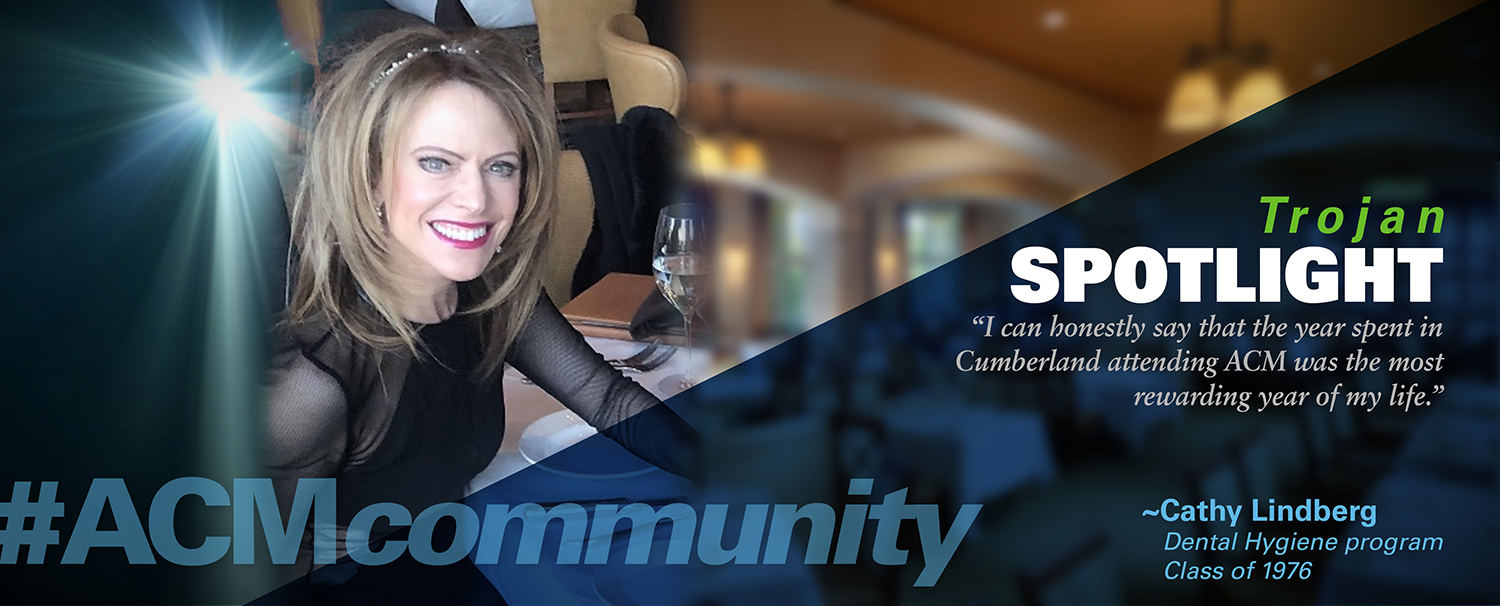 At a Glance
Name:
Cathy Lindberg
Major:
Dental Hygiene Program
Class of:
1976
---
Q & A
Why did you choose this major?
I am one of the few individuals who loved going to the dentist and was fascinated by the growth and development of the dentition. As a sixteen-year-old, while selling hot dogs at Pimlico Race Track (my father was a jockey and in the 1950s rode racehorses at the Cumberland Race Track!), I was side by side with an enthusiastic girl who was enrolled at ACC (now ACM). She inspired me to visit the campus and complete an application to attend ACC. This encounter, with this ACC student selling hotdogs in the summer, was the best blessing for me. It led me to a lifetime of ambition and happy memories.
What advice would you give to students interested in your career path?
Dental Assisting and Dental Hygiene are rewarding professions. The lessons of compassion are learned with every patient. With educating the patients towards dental health, the assistant or hygienist can leave an indelible impression on them. Students may not choose to top their dental education with a law degree but he or she can certainly move towards further education with a DDS or other professional degree. ACM gives you the study habits and enthusiasm to achieve any educational goals desired. It is only a matter of putting ambition in front of your eyes. I love the expression "reach for the moon, and even if you miss, you will be amongst the stars." If you want it, go get it!
What was your overall experience at ACM?
I am sixty-two years old now and can honestly say that the year spent in Cumberland attending ACM was the most rewarding year of my life.
Who was your favorite ACM faculty/staff member? Why?
That is a "dead heat finish" between Ms. Mary Jewel Hidey, Dr. William Fridinger, Ms. Trish Robinson and Ms. Gail Moreland. They were all dedicated, knowledgeable and friendly. Ms. Moreland was so smart and had all these different colors of chalk to distinguish the different parts of oral anatomy, Ms. Robinson was a sweetheart with a nice chairside touch, Dr. Fridinger and Ms. Hidey fussed over things and made me laugh. Both told fun stories about each other. Everyone was kind and friendly. Attributes that sometimes fade away in today's hectic world, so I lean back to the memories of these faculty members and smile.
What is your greatest achievement in your career?
My greatest achievement in my career as a dental assistant and hygienist was exhibiting professionalism, kindness, and respect towards all my patients. As an attorney, my greatest achievement was working recently with the Department of Transportation and the Office of Inspector General to apprehend a group of individuals who posed as professional movers but were extortionists and thieves preying on the innocent public. I followed them all over the United States gathering information and evidence for the families and the federal departments. My efforts culminated with meeting the leader of this criminally based group in a warehouse in Guilford, Connecticut. Nonetheless, after harming over nine hundred families and individuals throughout the United States, the entity was finally apprehended, are going to trial and face twenty years in federal prison.
Additional comments:
I was seventeen years old when I attended ACM. While at ACM, I developed study skills that allowed me to obtain a Bachelor of Science Degree and subsequently a J.D. I practiced law in Maryland for many years and taught, as an Adjunct Professor, Constitutional Procedure, Business Law and Criminal Law at two community colleges in upstate New York. Without my skills that were obtained at ACM and the dedication and friendliness of the faculty, none of that would have been possible.