Changes in the current healthcare environment have shifted patient care from in-patient to community-based, focusing on wellness, disease prevention, early detection, and early interventions. There has been a shift in hospital admissions- patient stays have become shorter, acuity is higher, and patient care is more complex than before, impacting student opportunities during hospital clinical rotations. Nursing faculty are called to create additional opportunities for students to develop technical and critical thinking skills foundational to quality bedside nursing practice (National Academies of Sciences, Engineering, and Medicine, 2021). Increasing collaboration between education and practice and interprofessional education are suggested actions to meet the educational needs of future nurses (American Association of Colleges of Nursing [AACN], 2019).
The NMWC provides a safe learning environment for students to apply classroom theory to real-world practice. These clinical activities enhance learning, develop technical skills, focus on wellness and health promotion, and prepare nursing graduates for a diverse workforce. The NMWC activities support academic programs and align with the college's mission and strategic goals.
Benefits of the NMWC
The NMWC provides innovative multidisciplinary clinical experiences for nursing and allied health students to prepare them to enter a diverse healthcare environment. The wellness clinic utilizes a holistic approach to provide services that promote community wellness, disease prevention, and health promotion. Furthermore, the NMWC empowers individuals to be self-directed and well-informed consumers of healthcare services, promoting lifelong patterns of health-optimizing behaviors.
The NMWC impacts the health and well-being of students, college employees, and the local community.
The NMWC offers students convenient, affordable healthcare services, providing a means for overcoming barriers and preparing for nursing. Many students beginning a health career program at a community college need help accessing preventative health services or lack health education or financial resources. The NMWC addresses many social determinants of health through education and low or no-cost services.
The NMWC provides health services which are required for health career programs:
Physical examinations
Immunizations (Influenza, TDAP, MMR, Hepatitis B)
Tuberculin screening
Immunology (titers for MMR, Varicella and Hepatitis B)
Health Risk Assessments (lifestyle behaviors, anxiety, depression screening and education)
Referral to ACM student services and community resources (food pantry, transportation/ housing, mental health counseling, additional health services)
The NMWC provides opportunities for independent student projects and activities to raise awareness of health topics relevant to the college population including but not limited to, healthy lifestyle choices, domestic violence awareness, and infectious disease prevention. The NMWC maintains partnerships with local community health agencies and the college employee wellness committee.
Nursing faculty work scheduled hours in the clinic. This enables faculty to easily balance academic responsibilities while accruing practice hours needed to maintain advanced practice certification.
---
Clinical Learning Activities:
Student-led clinics are designed to align with course content areas and accommodate student learning styles. Students apply theory and practice skills in a supervised clinic environment.
Students experience the core values of the nursing profession within the context of wellness promotion, early detection, and intervention. The NMWC supports nursing students' academic success by providing opportunities to enhance nursing graduates' knowledge, skills, and attitudes.
Nursing and allied health students provide health education and wellness services to a targeted audience. This real-world clinical experience combines Healthy People 2030 Objectives evidence-based practice, clinical reasoning, and collaborative interprofessional education in clinical settings.
RESOURCES
Fourth semester nursing students assume the role of a nurse to provide vaccinations and health education to targeted audiences in a supervised academic environment. This real-world clinical experience begins with identification of the nurse's role in vaccination clinics, and includes evidenced-based practice guidelines, clinical reasoning, documentation, and patient education.
RESOURCES
Volunteers from targeted populations participate in learning activities to supplement classroom learning. These clinics include:
Prenatal Assessment

Healthy pregnant women (>20 weeks)

Well Child Assessment

Children between newborn-18years attend with a parent/caregiver
Head Start preschool children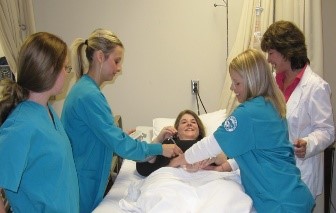 Students from multiple health programs learn with and about each other to provide patient care. IPE activities focus on two core competencies - Roles and Communication.
Preventative Screening Clinics - Teams work together to identify patient risk factors, provide laboratory testing and patient education. The clinics are open to the college and local community. These clinics include:

Diabetes (hgbA1C)
Cholesterol (lipid panel)
Anemia (hemoglobin testing)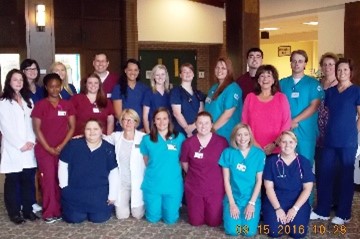 FORMAL EVALUATION

The Course Rubric provides a summative evaluation of the learners' performance and attainment of the course objectives. The rubric also defines the expectations for learner's performance.
Course evaluation This anonymous survey provides additional assessment of course outcomes to improve learning activities.

INFORMAL EVALUATION

Socratic questioning is used to evaluate knowledge during the initial group discussion at the beginning of the class. The student responses will indicate whether additional content review is needed before advancing to application within clinical scenarios and role playing.
Peer Review- Students participate in a role-play of a clinic visit as either a patient or the nurse. After completing the scenario each pair of students will consider the following questions. Students provide verbal feedback to each other and then share themes in group discussions.
Self-Reflection offers students the opportunity to determine if they achieved their personal learning goal for the course and identify barriers and facilitators for their learning. This serves to reinforce expected outcomes and can contribute to a deeper understanding and responsibility for learning (Kirkpatrick, 2020).
---
Developing the NMWC:
Identifying stakeholders and advocates for the clinic
The nursing faculty and the program director championed the project's development, garnering the support of the other healthcare programs and the college senior leadership. The NMWC director works closely with finance and instructional affairs to maintain sustainability (including the college president, the vice president of instructional affairs, human services, and finance). Several accredited healthcare programs require interprofessional education.
Fiscal support
The Maryland Higher Education Commission's (MHEC) Nurse Support Program (NSPII) provided grant funding for the project's development, implementation, and dissemination. The clinic is currently supported financially through service revenue, student fees, and college funds.
Adapting to the needs of the college population
Initially, each ACM nursing student was assigned one clinical rotation in the NMWC during the 2-year program. Clinical learning activities and service hours were expanded during the pandemic to meet the need for additional clinical time and preventative health services because of limited access during the COVID pandemic.
Post-pandemic, the college has focused on the impact of anxiety and stress on academic success. The NMWC offers a Health Risk Assessment visit to help individuals become aware of their mental and physical health and the impact of lifestyle behaviors on overall health. Resources for mental and physical health available through the college and local community are discussed during the 30min visit.
RESOURCES
---
References
American Association of Colleges of Nursing (2019).
Vision for Academic Nursing White Paper.
Washington, DC
Hansen-Turton, T., Sherman, S., & King, E. S. (2015).
Nurse-Led Health Clinics: Operations, Policy, and Opportunities
(1st ed.). Springer Publishing.
Kirkpatrick, J. (2020). Strategies for Evaluating Learning Outcomes.
In D. Billings Teaching in nursing: A guide for faculty (pp.450-473). St Louis: Elsevier.
National Academies of Sciences, Engineering, and Medicine 2021.
The Future of Nursing 2020-2030: Charting a Path to Achieve Health Equity.
Washington, DC: The National Academies Press. https://doi.org/10.17226/25982.
(n.d.).Quality and Safety Education for Nurses.
QSEN Competencies. Retrieved June 26, 2023, from https://www.qsen.org/competencies
---
This toolkit contains free-source activities and materials to engage students in clinical learning experiences. All materials are available for download and use.
For more information call ACM Nurse Managed Wellness Clinic @ 301-784-5670 or email: nmwc@allegany.edu