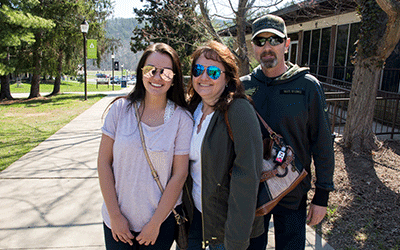 CUMBERLAND, Md. (Feb. 28, 2023) – Allegany College of Maryland will host its first spring open house event on Mon., March 6. Spots are open for its 8:30 a.m. session. Advance registration is required and available at www.allegany.edu/openhouse
Meet the College.
Future students and their families will have the chance to meet one-on-one with faculty members and student recruitment staff to learn how academic programs can lead directly to a career or transfer to a four-year institution. In addition to exploring academic majors, they will have the opportunity to speak with Trojan Student Ambassadors, learn about student support services, student clubs and activities, and tour the campus and Willowbrook Woods, the college's student housing complex. Vouchers for lunches in the college café will be provided.
Summer session courses may be previewed online at https://selfservice.allegany.edu/Student/Courses. The college offers full term and A and B term courses. A preview for fall courses will be shared in March.
Pre-registration has its benefits.
Tuition vouchers will be awarded, and all prospective students will receive an ACM Future Student gift bag that includes their very own ACM t-shirt.
Connect for information.
Future students and their families may call, email, and text ACM for more information. Contact Lauren Winterberg, the college's coordinator of student recruitment, at 301-784-5124. Courtney Jensen, a college recruiter, is available to answer open house questions by text at 240-716-6277.
A second open house is scheduled for Sat., April 15.
Accessible and affordable.
Attending college is affordable at ACM. Over 90% of ACM students receive financial aid, and Allegany County residents may benefit from an up to 50% tuition subsidy through the Allegany County Opportunity Tuition Subsidy or the Allegany County Opportunity Merit Scholarship. County residents can complete two years of full-time study (tuition and standard fees) to earn an associate degree at ACM for half the cost of one year of study at a regional college or university. The ACM Foundation offers over $1 million in scholarships annually.
The college's Regional Student Waiver program offers a 20% tuition discount for residents of Bedford, Fulton and Somerset counties in Pennsylvania and Hampshire, Mineral and Morgan counties in West Virginia for students enrolled at the Cumberland campus or in online courses.