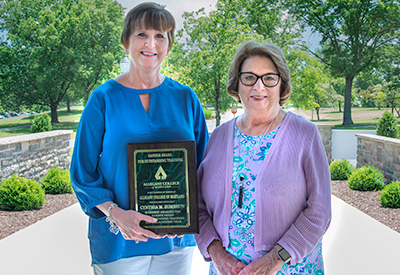 Cynthia Zumbrun is honored with a plaque for being selected the 2023 recipient of the Sanner Award for Outstanding Teaching by Dr. Cynthia Bambara, ACM President.
ZUMBRUN HONORED WITH OUTSTANDING TEACHING AWARD AT ACM
CUMBERLAND, Md. (June 8, 2023) – Cynthia Zumbrun, professor and assistant program director for the Medical Administrative Assistant/Medical Assistant programs at Allegany College of Maryland, was honored with the Sanner Award for Outstanding Teaching during ACM's 2023 awards presentation.
A graduate of ACM and Frostburg State University with both her Bachelor of Science and Master of Education degrees, she joined ACM in 2001. This past spring, Zumbrun was promoted to the title of professor. She coordinates the practicums that prepare students for versatile careers in allied health professions, sharing her valuable knowledge and experience in coding, insurance and administrative skills.
Heralded as "one of the unsung heroes at ACM" in her nomination letter, Zumbrun has been known to go "above and beyond the call to help her students and colleagues." She creates a learner-centered environment in her medical coding classes and offers detailed feedback when advising her students. She led ACM's efforts to partner with the American Academy of Professional Coders (AAPC) and made it possible for area students to take the AAPC Certified Professional Coder exam locally, without traveling. A member of the Western Maryland Mind Body Medicine Team, Zumbrun also leads her students in breathing techniques and routinely offers pep talks before examinations.
For her ACM colleagues, Zumbrun has volunteered her skills and insights to the Academic Assessment Committee. She also served a term on the Faculty Status Committee, contributing to the development of the college's tenure and promotion protocols.
Zumbrun is the 37th recipient of the Sanner Award, which was established by Miriam Sanner, a former ACM Board of Trustees chair and ACM Foundation board member emerita. Nominations can be submitted by full-time faculty, staff, or administration and selections are made by the Faculty Status Committee, a peer group that represents ACM's full-time faculty members.