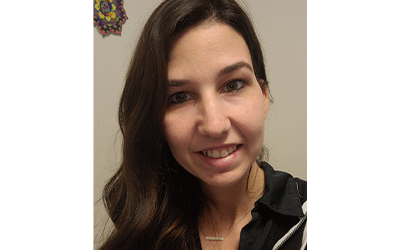 Destinee Whetstone, Transform Mid-Atlantic Civic Fellow for 2023-24
CUMBERLAND, MD (Apr. 28, 2023) – Transform Mid-Atlantic has selected Destinee Whetstone, an Allegany College of Maryland social work student, to serve as a civic fellow for the upcoming academic year. Whetstone was nominated by Cynthia Bambara, college president. Whetstone is one of 18 college and university students selected from Maryland, Delaware and the District of Columbia.
Whetstone, a resident of Midlothian, Maryland, is a 2011 graduate of Fort Hill High School. She enrolled in Early College classes through ACM during her senior year. With prior college experience at ACM, Frostburg State University and West Virginia University, Whetstone began her studies at the college last summer originally as human service associate student before switching to the college's social work program. She is passionate about creating healthy, sustainable and equitable futures for current and future generations.
"I am very proactive when it comes to gaining leadership skills and learning more about ways to help grow communities. I honestly believe that change starts with us," Whetstone said.
The Transform Mid-Atlantic Civic Fellowship program offers student leaders high-impact opportunities to develop their leadership skills and understanding of civic and community engagement so that they may better serve as leaders in their communities and collectively create solutions to our region's most urgent problems. The program's learning and networking opportunities emphasizes personal, professional, and civic growth. Fellows take part in virtual and in-person gatherings and conversations with regional and national experts who are focused on leadership development and advancing equity through civic and community engagement. The program was launched in January 2022.
"We are excited to begin working with this inspiring second cohort of fellows," said TMA Associate Director Anthony Wagner, adding that "TMA is hopeful that the knowledge, understanding, and connections they generate in the year to come will help to shape their future plans and strengthen their ability to catalyze change in our local communities across the region." More about Transform Mid-Atlantic at www.transformmidatlantic.org.