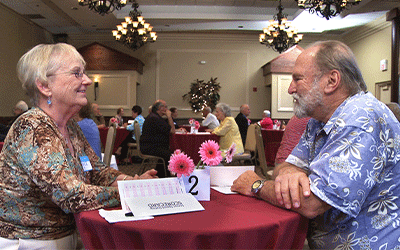 In this image from The Age of Love, two speed daters, Janice and Pacho, are shown the Rochester event.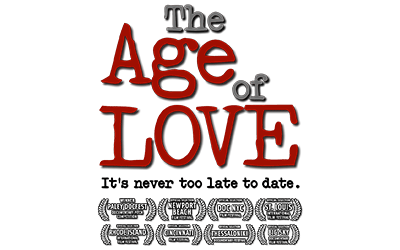 Award-winning Documentary The Age of Love Comes to Allegany College of Maryland on March 30
CUMBERLAND, Md (Mar. 10, 2023) — Speed dating for the booming 70+ generation has become a growing trend across the country thanks to The Age of Love, a groundbreaking 2014 documentary by Steven Loring. Allegany College of Maryland will offer free public screenings of the film at 2 p.m. and at 6 p.m. on March 30 in Room 121 of the Technology Building. Loring, who also directed Shacharit: A Morning Prayer, will attend the screenings to answer questions about the film and the love-seekers it follows. Attendees are asked to register at https://bit.ly/3ZRUxxy.
The Age of Love intimately follows the humorous and poignant adventures of 30 Rochester, NY seniors who sign up for the first-of-its-kind speed dating event for 70 to 90-year-olds. Fearlessly candid as they take stock of life-worn bodies and still-hopeful hearts, speed daters soon discover how the search for love changes or doesn't at all from first love to the later reaches of life.
The film won NYC's Paley Center Doc Competition. It received a Fledgling Fund grant for its "potential to change American culture." The Age of Love takes aim at ageist stereotypes and taboos and reveals an unexpected story of emotional growth and new beginnings regardless of age. A trailer for the film is available at http://bit.ly/1zntID1.
The screenings at Allegany College of Maryland are a collaboration of two sociology classes, Marriage and Family and Introduction to Gerontology, and are funded through the ACM Foundation's Civic Engagement Fund.