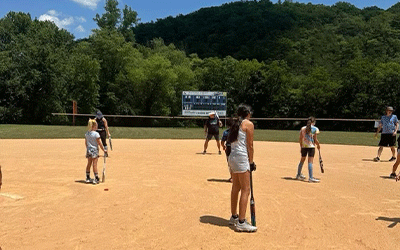 Twenty-five area softball players took part in Allegany College of Maryland's softball skills camp last month. The campers are shown during group practice on ACM's softball field.
Twenty-five Softball Players"Skill and Drill" at Two-Day Camp: ACM Held its Third Summer Skills Camp since 2020 Program Relaunch

CUMBERLAND, Md. (Aug. 29, 2023) – Allegany College of Maryland women's softball coaches and student athletes hosted 25 campers for its late-July skills camp. The campers ranged from 10-17 years old, and the camp was held at the college's Cumberland campus. The camp focused on skills and drills and player development.
"Having the skills clinics for area youth gives us an opportunity share some drills and our love of the game of softball. Being able to have our athletes and other coaches share their experiences with these young athletes is very special," said Rick Twigg, ACM's softball coach.
It was the softball program's third skills camp since the launch of its new softball program in 2020. The coaching staff hopes that many of campers will return as ACM student athletes.
Assistant Coach Kayla Dodson, a former Trojan softball, basketball and volleyball player, said, "The skills camps are something I look forward to every year. My favorite part is seeing our student athletes give back to the game that's given them so much. I think it's a great thing for our softball community.
For more information and upcoming clinics, visit www.acmtrojans.com and select camps and clinics or call 301-784-5005.