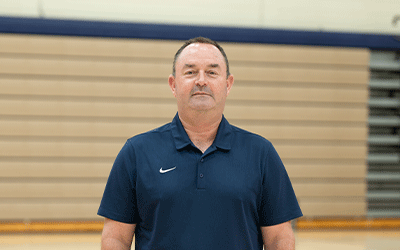 Mo Pratt brings three decades of dynamic coaching experience to ACM.
Alum Brings Three Decades of Dynamic Coaching Experience to ACM
CUMBERLAND, Md. (Jul. 19, 2023)— Mo Pratt will serve as head coach for the soccer program (men's and women's teams) at Allegany College of Maryland and bring a wealth of experience in coaching soccer at the community college and youth levels. He is currently recruiting players for the fall 2024 season.
Thrilling college coaching experience
Under Pratt's leadership, the men's soccer program at WVU Potomac State had a final record of 9-7-1 overall for its 2022 season. Pratt took the 2022 team to the Region 20 semifinals. The team lost in an overtime thriller, but it yielded NJCAA's number three leading goal scorer and three Region 20 student athletes that season for Potomac State.

Pratt resurrected Potomac State's women's soccer program as head coach for four years beginning with the 2019 season. After a dormant 2018 season for the catamounts, Pratt recruited talented players and led them to the 2022 semifinals. He helped produce 10 All Region 20 student athletes.
"Having worked with great teams in the two-year college system, Mo understands how to help student athletes improve their skills and game. But he also knows how to encourage them to strike the balance in athletic and academic achievement," said Tommie Reams, ACM's athletic director. "Our students will benefit from his coaching experience, not to mention his education."

Producing winning high school teams
Developing players is a long-held passion for Pratt. He was an assistant on the Mountain Ridge High School and Beall High School girls' soccer teams for 10 years, producing six Cumberland Times-News area championships for the Frostburg high schools and producing six Players of the Year. Pratt was an assistant coach of the boys' soccer program at Mount Savage High School for six years.

Developing well-rounded club players
Pratt has decades of experience coaching local youth soccer clubs and helping players learn and finetune their play. He currently coaches the Miners Soccer Club U18 Boys team in Frostburg.

Bringing that player mentality to ACM
Returning to ACM as a coach is a homecoming of sorts for Pratt. From 1988-1990, Pratt was a standout soccer player at Allegany College of Maryland (then Allegany Community College) for two seasons and was named Team MVP both years. He was ACC's leading scorer during his first year and he earned All-Region 20 1st Team and All-MD JUCO 1st Team honors during both seasons. His second season with Coach Darrell Blank remains his most memorable.

"We finished 10-4-1, including two wins over NJCAA (National Junior College Athletic Association) nationally ranked opponents. At the time, it was ACM's winningest season ever," said Pratt, who also played soccer for Mount Savage High School.

After attending ACM, Pratt earned a B.S. in Health, Physical Education and Recreation/Teacher Education with a Coaching Concentration from Frostburg State University. He has a USSF "D" license and holds Developmental diplomas through United Soccer Coaches. He resides in his hometown of Mount Savage with spouse Christina and son Owen.

Recruiting Players
More student athletes are choosing ACM's Athletics Program, a point that Pratt makes when speaking with prospective students. In four years, ACM has seen a 41% increase in the number of student athletes.

"A lot of our athletic programs flourish when our former student athletes accept coaching positions with the college. ACM and sports are ingrained in those folks," said Sports Information Coordinator Courtney Crislip.

Pratt is recruiting players for next season's men's and women's soccer teams. He can be reached by email or by calling 301-784-5174.


Media Contact: Courtney Crislip, Sports Information Coordinator