This article was submitted to and appeared in the Cumberland Times-News's 2023 Economic Outlook.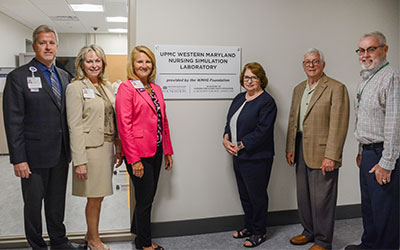 Allegany College of Maryland formally dedicated the UPMC Western Maryland Nursing Simulation Laboratory in 2022. The college serves as the main provider of skilled health care professionals for the hospital.
Allegany College of Maryland is advancing efforts to overcome worker shortages in critical labor sectors. The college's ability to scale up and modify accredited academic programs is in high demand, particularly in healthcare and the helping professions which face unprecedented worker shortages.
A shortage, by the numbers
The U.S. can expect to need 1.1 million new registered nurses by 2030, according to the U.S. Bureau of Labor Statistics. A Mercer review of state employment trends in 2021 estimates there will be a shortage of "approximately 446,000 home health aides, 95,000 nursing assistants, 98,700 medical and lab technologists and technicians and more than 29,000 nurse practitioners."
According to RT Magazine, 92,000 respiratory therapists are expected to retire by 2030. A survey by Social Work News found that 67% of surveyed social workers may leave the profession. Approximately 3,000 dental hygienists have left or will be leaving according to a 2021 study of Employment Patterns of Dental Hygienists in the United States. Even the self-care industry needs care; 29,000 massage therapist positions are currently available in the U.S. according to a study by the International Spa Association.
"Staffing shortages result in limited access to care. These shortages are far more damaging in minority communities and in rural communities, like ours. As the region's leading hub for higher education, it was imperative that we act," President Cynthia S. Bambara said.
Here today, hero tomorrow
Allegany College of Maryland expanded learning formats and cohorts, hired additional instructors, added clinical simulation equipment, and amplified marketing and outreach efforts for its allied health programs. It received a six-figure gift from the WMHS Foundation and unveiled the UPMC Western Maryland Nursing Simulation Laboratory at ACM. Within its accredited nursing program, the college received grants to double its evening nursing cohort and launch a weekend hybrid nursing program this fall.
"We're meeting learners where they are to prepare them for healthcare and helping professions at a time when their knowledge and skills are invaluable. We are seeing learners of all ages, including many career-changers and students with prior degrees, entering these programs because of the pandemic's impact on their lives or others within their communities," said Bambara.
The college's allied health division offers academics degrees in dental hygiene, human service associate, massage therapy, medical administrative assistant, medical assistant, medical laboratory assistant, nursing, nursing LPN to RN online, occupational therapy assistant, physical therapist assistant and respiratory therapist. Shorter term and specialty certificates may be earned in addictions, medical coding and billing, medical scribe specialist, nursing assistant/geriatric aide, pharmacy technician and phlebotomy/laboratory assistant.