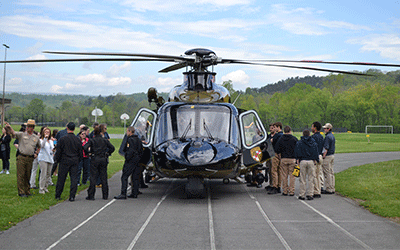 The Maryland State Police Trooper 5 Helicopter draws a crowd at a prior Law Day.
Cumberland, Md. (Apr. 26, 2023) —The scene will be like something out of a movie as corrections professionals extract individuals from a bus to safety. In actuality, it will be a staged demonstration at the Law Day Celebration on April 28 at the Allegany College of Maryland.
he college's criminal justice and legal studies programs work with local law enforcement, public safety, corrections, and other agencies to provide the Law Day Celebration for the community. It offers everyone the chance to interact with criminal justice professionals, watch demonstrations, and participate in round-table discussions. Loud noises and smoke will be part of some demonstrations.
Law Day begins at 9 a.m. in the College Center and features displays by law enforcement agencies, correctional institutions and the local fire marshal, among others. The landing of Maryland State Police Trooper 5 Helicopter (weather/helicopter availability permitting), a drug dog demonstration by Cumberland Police Department, and demonstrations by staff from the Western Correctional Institution and Federal Correctional Institution, Cumberland. Law Day is expected to end by 2 p.m.
For more information, contact Brandon Hoover, J.D., program director, at 301-784-5300.