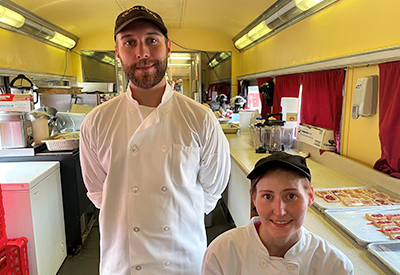 Chefs Jamey Baker and Tara Campbell in the Kitchen Car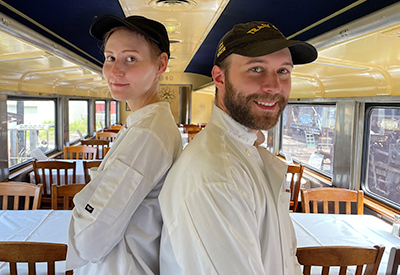 Chefs Tara Campbell and Jamey Baker in the Dining Car
ACM Culinary Arts Students Roll with Western Maryland Scenic Railroad
CUMBERLAND, Md. (Aug. 14, 2023) – To say that chefs Jamey Baker and Tara Campbell chose a career that's "on the move" is a tremendous understatement.
The two students from Allegany College of Maryland's Culinary Arts program work daily for the Western Maryland Scenic Railroad (WMSR). Crammed into a hot, narrow vintage kitchen car parked in the WMSR train yard in Ridgeley, W.Va., and surrounded by several small ovens and flat-top griddles, they are ready to feed their hungry passengers. Today's menu? Pulled chicken BBQ sliders, apple slaw, fiesta rice with beans and cornbread.
"There's definitely a surprise at every corner," said Baker, a resident of Frostburg who is WMSR's head chef. Baker has worked for the train for seven years and recently returned to school to earn his Associate of Applied Science degree in Culinary Arts from ACM.
Campbell, who lives in Mount Savage, is the train's sous chef and knows the need for speed on the railways. "You have to be a lot faster in the kitchen or the food will get cold."
The ACM students roll with the daily twists and turns, creating brunches, lunches, formal dinners, themed menus for special train rides and even handle event catering such as weddings. One special event of note is the annual Polar Express Train during the holidays where Baker and Campbell must prepare 125 gallons of hot chocolate a day for pajama-wearing passengers.
"That's three pools of hot chocolate a month," Baker clarified.
Both Baker and Campbell have their favorite dishes to prepare. For Head Chef Baker it's a popular sweet potato stuffed chicken, while Sous Chef Campbell likes a sweet, spicy chicken with brown sugar and chili powder that's wrapped in bacon, a recipe from her mother.
While the team tries to prep as much as they can before the train leaves the station, they also must cook while the locomotive is in motion. The most difficult dish for Campbell to prepare while moving is an omelet. And Baker remembers an unfortunate incident involving five gallons of chili sliding off the counter when the train jumped.
"That was a real 'Kevin from The Office' moment," he said with a laugh.
Both chefs speak highly of ACM's Culinary Arts program for instructing them how to cook on the fast track. "The professors and chefs are awesome people. They are helpful and know everything," Baker said. "They send me back to work with more ideas and knowledge."
As for life beyond the train's tiny kitchen car, Campbell plans to study baking next because she enjoys "following a recipe" compared to the whimsy of adding a "dash of this and a dash of that." But Baker is content chugging along on the train and making tasty meals for his satisfied riders.
"We make a lot of great food and just let people enjoy," he added.
For more information on ACM's School of Hospitality Management and Culinary Arts, call 301-784-5406.