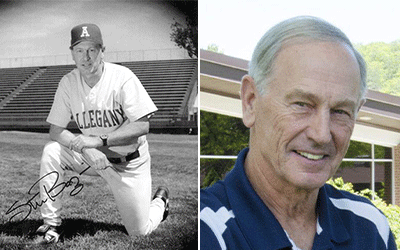 Steve Bazarnic coached and taught at ACM from 1971 to 2019.
CUMBERLAND, Md. (Apr. 10, 2023) — Steve Bazarnic of Cumberland, Maryland, dedicated his professional career to collegiate baseball and to the education of students at Allegany College of Maryland. To honor his 48 years of service, ACM will formally name its baseball field, the field where Bazarnic coached countless baseball standouts, the Steve Bazarnic Field, during a ceremony at 11:30 a.m. on Sunday, April 23. The public is invited to attend. The dedication ceremony precedes a 12 p.m. double header against Anne Arundel Community College.
Bazarnic, who retired from Allegany College of Maryland in 2019, arrived in Cumberland in 1971 from State College, Pennsylvania, to work at what was then known as Allegany Community College. He became the college's first baseball coach and developed and led ACM's nationally recognized and revered baseball program. ACM baseball won more than 1,400 games under his leadership. The Trojans won nine district championships and played in the NJCAA World Series nine times. During his coaching career, he produced 54 draft picks or free agent-signees including six players who spent time in Major League Baseball: John Kruk, Stan Belinda, Steve Kline, Scott Sebol, Joe Beimel and Scott Patterson.
Bazarnic was inducted into three halls of fame: The Maryland Baseball Coaches Hall of Fame in 1991, National Junior College Athletic Association Baseball Coaches Hall of Fame in 1996 and the NJCAA Region XX Baseball Coaches Hall of Fame in 2000. Bazarnic coached and taught hundreds of young adults and nontraditional students during his outstanding career.
To further commemorate Bazarnic's many contributions, the ACM Foundation has worked with Bazarnic to set up the Steve Bazarnic Athletic Fund in support of all athletic programs at ACM. An online campaign is available to securely accept donations at https://www.givecampus.com/4z7up8. The ACM Foundation may be reached by calling 301-784-5200.
For more information about the dedication ceremony, please contact the ACM Athletics Department at 301-784-5265.