FOR MORE INFORMATION
Kristin Kehrwald 301-784-5152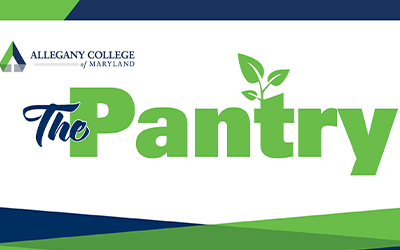 ACM Named Hunger-Free Campus, Receives Grant Award

CUMBERLAND, Md. (Oct. 24, 2022)– The Maryland Higher Education Commission (MHEC) awarded $13,636 to Allegany College of Maryland and designated it a hunger-free campus in September. The state-funded matching grant was made during the inaugural round of Hunger-Free Campus program awards. The awards were made to support efforts to address food insecurity among students on Maryland public colleges and universities and regional higher education centers. ACM's grant is earmarked for The Pantry, the college's permanent provider of food and personal care products for students in need.
Reducing Food Insecurity
The college's Student Emergency Support Committee oversees The Pantry's operations under the leadership of co-chairs Dione Clark-Trub, an academic access and resources coordinator, and Heather Greise, an associate professor of English. The Hunger-Free Campus grant will expand the committee's plans to further reduce food insecurities on campus and increase student achievement.
An Opportunity to Help
Community members may make a tax-deductible gift to The Pantry online or by mailing or a check to the ACM Foundation, Allegany College of Maryland, 12401 Willowbrook Road SE, Cumberland, MD 21502.