FOR MORE INFORMATION
Kristin Kehrwald 301-784-5152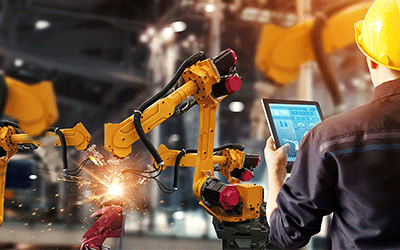 ALLEGANY COLLEGE OF MARYLAND OFFERS NEW DEGREE PROGRAM AT WESTERN MARYLAND WORKS:
Open House Planned for May 9
CUMBERLAND, Md. (May 2, 2022) – Allegany College of Maryland will offer a newly MHEC-approved Engineering – Automated Manufacturing Technology A.A.S. degree program this fall. A program open house is planned for 3 to 6 p.m. on Monday, May 9 at the Western Maryland Works at Allegany College of Maryland located at 37 Lane Avenue in LaVale. All are invited to attended.
The 67-credit engineering – automated manufacturing technology program, which prepares students for direct employment, provides theory-based (knowledge) and performance-based (hands-on) experiences crucial to advanced and automated manufacturing processes. Through the integration of mathematics, robotics, metallurgy, manual tooling skills, programmable machinery applications, computer-assisted machining techniques and additive manufacturing, students acquire skills that lead or enhance employment. Successful program completion qualifies a student to apply for an associate of applied science degree in engineering – automated manufacturing technology.
"Our program, which is admittedly an intense program, is built on employer demand. It's one of the first times we've moved a Continuing Education program into a full credit or academic degree offering. To make sure it best serves our students, we've worked with our program advisory committee members – regional companies like Northrop Grumman and National Jet, among others – and secured an MSDE Innovation grant to develop course curriculum," said Dr. Jennifer Light, program coordinator.
Chance to Earn Industry-Recognized Credentials.
Engineering – automated manufacturing technology students are eligible to earn up to 20 industry-recognized credentials throughout the degree program. Throughout the coursework, students are eligible to earn National Institute of Metalworking Skills or NIMS credentialing opportunities, including fourteen skill specific credentials and a NIMS machining certificate of special merit certificate. The 14 skill-specific credentials include:
Measurement, Materials, and Safety
Job Planning, Benchwork, and Layout
Drill Press Skills I
Manual Milling Skills I
Turning Operations: Between Centers I
Turning Operations: Chucking Skills I
CNC Milling: Programming Setup & Operations
CNC Milling: Operator
CNC Turning: Programming Setup & Operations
CNC Turning: Operator
Metalforming
Electrical Discharge Machining (EDM): Plunge
Electrical Discharge Machining (EDM): 2-Axis Wire and
Grinding Skills I.
In addition to NIMS, students will be eligible for three certifications in robotics and additive manufacturing (3D printing). Students can test for two additional credentials in Autodesk CAD and CAM through coursework and software experience in computer-aided design and computer-aided manufacturing.
Connect for Information.
Dr. Jennifer Light, program coordinator, may be reached at jlight@allegany.edu or 301-784-5281. More information is available at www.allegany.edu/engineering.
Western Maryland Works is the college's newest education site, pending approval by the Middle States Commission on Higher Education.