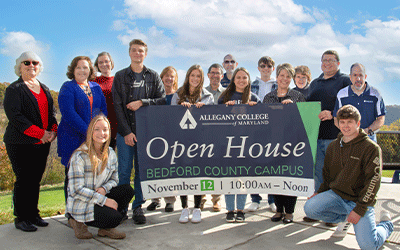 ACM BCC students, faculty & staff gather with fall open house banner.
EVERETT, Pa. (Oct. 28, 2022) – The Allegany College of Maryland Bedford County Campus will host an open house from 10 a.m. to 12:00 p.m. on Nov. 12.
Prospective students will have the chance to meet with ACM representatives, tour the campus, learn about early college and ACM's academic offerings, explore financial aid and scholarship options, discuss transfer opportunities, and enter to win one of five tuition vouchers. All are welcome to attend.
For more information, contact Tina Imes at 814-652-9528 ext. 1-6224.