FOR MORE INFORMATION
Kristin Kehrwald 301-784-5152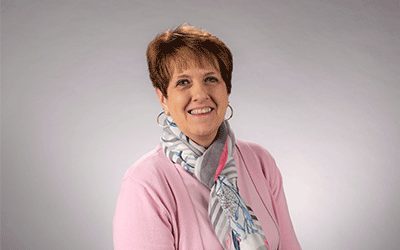 Dr. Rae Ann Smith, AA, '91, recipient of the 2022 ACM Distinguished Alumni Award.
CUMBERLAND, Md. (Nov. 2, 2022) – Rae Ann Smith, OTD, is the fourth recipient of the Allegany College of Maryland Distinguished Alumni Award.
Smith began her academic journey at ACM. She earned an Associate of Arts degree in Mental Health from ACM in 1991, a Bachelor of Science degree in Social Work from Frostburg State University in 1993, a Bachelor of Science degree in Occupational Therapy from Towson University in 1998, Master of Education degree from Frostburg State University in 2004 and a Doctorate in Occupational Therapy from the University of St. Augustine in 2009.
A Leader in Her Profession
Since 2018, Smith has been a professor at Bay Path College where she presently teaches in their post-professional occupational therapy doctoral program. She is a member of the National Board for Certification in Occupational Therapy and the Maryland Board of Occupational Therapy Practice. Previously, she served an adjunct faculty member for the Community Colleges of Baltimore County's Occupational Therapist Assistant Program.
A Champion for ACM
A very familiar face at ACM, she led the college's Occupational Therapist Assistant Program from 2003-2018 and taught other disciplines, including psychology. During her tenure, she served on countless committees ranging from Academic Appeals to the Nurse Managed Wellness Clinic. Smith was a liaison to AHEC West's Exploring Careers in Health Occupation (ECHO) program for high school students.
The definition of an individual dedicated to the 'helping' professions, she also served as an occupational therapist at the Western Maryland Health System (now UPMC Western Maryland), Dawnview Nursing and Rehab Center (now Complete Care at Dawnview), and Johns Hopkins Hospital. Smith began her career as a social worker with the Allegany County Mental Health Clinic and as a counselor at the Family Crisis Resource Center.
A Dedicated Community Volunteer
She is an organist, accompanist and active member of Christ Lutheran Church in LaVale, and serves on the Allegany County chapter of Habitat for Humanity Board of Directors and the Resources for Independence, Inc. Board of Directors. She is the Project Lead the Way Advisory Committee Chair for the Allegany County Board of Education and frequently offers education and consultation services for agencies and homeowners.
"Rae Ann is the most dedicated, hard-working, organized person I know. I'm so proud of her accomplishments. As busy as she is, she can always make time for me, our five kids, and five grandkids," said Jeff Smith, who nominated Smith for the award.
Smith is a donor to the ACM Foundation. She and her husband reside in LaVale.