FOR MORE INFORMATION
Kristin Kehrwald 301-784-5152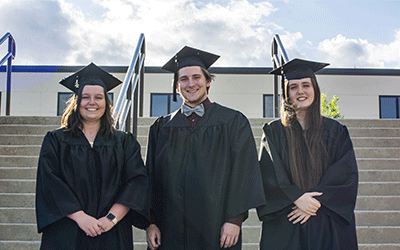 Kasey Brown, Ryan Kisner, and Elizabeth Emerick were selected by college faculty and staff to provide individual remarks.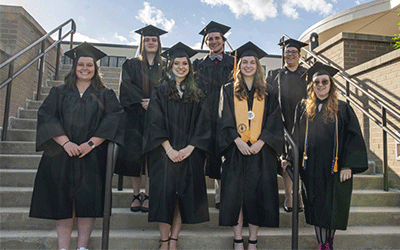 Spring graduates in regalia: row 1, L-R: Kasey Brown, Hallie Hillegass, Paige Taylor, Jazlyn Angel-Skye Logue; row 2, L-R: Elizabeth Emerick, Ryan Kisner, Kasandra Faulkner.
ACM BEDFORD COUNTY CAMPUS CELEBRATES SPRING GRADUATES
EVERETT, Pa. (June 2, 2022) – Allegany College of Maryland recognized 256 graduates at the conclusion of the recent spring 2022 session, including 12 graduates from its Bedford County Campus. In-person commencement exercises for the ACM Bedford County campus were held on Monday, May 16, and featured student speakers, Kasey Brown, Elizabeth Emerick and Ryan Kisner. For a number of the graduates, it was their first opportunity to be part of a traditional graduation ceremony.
Seven individuals from the spring 2022 graduating class received more than $19,500 in scholarships, tuition assistance awards and emergency book funding from the Bedford County Regional Education Foundation to pursue their educations at the Everett-based campus.
Listed below are the members of ACM Bedford County Campus's spring class of 2022, including those who graduated in absentia, and the degree they received, according to their place of residence.
Bedford - Landon Defibaugh, Psychology Area of Concentration; Faith Diehl, General Studies; Olivia Kagarise, General Studies; Jazlyn Angel-Skye Logue, General Studies.
Burnt Cabins – Kasey Brown, Sociology Area of Concentration, General Studies.
Everett - Lee Cogan, Computer Technology - Programming; Hallie Hillegass, General Studies; Ryan Kisner, Computer Science - Secure Computing and Information Systems.
Fairhope - Elizabeth Emerick, Psychology Area of Concentration; Kasandra Faulkner, Psychology Area of Concentration.
McConnell - Garrett Danfelt, Business Management.
Saxton - Paige Taylor, Business Administration.
The ACM Bedford County Campus has graduated 723 individuals in its 32-year history.