FOR MORE INFORMATION
Kristin Kehrwald 301-784-5152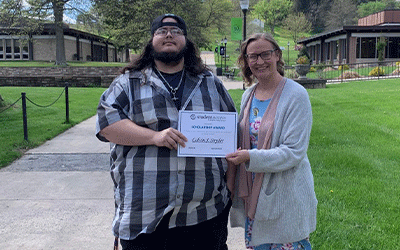 Calvin "CJ" Snyder receives a StudentAccess Scholarship from Tara DeVore, director of ACM's Pathways for Success, on behalf of StudentAccess/Heiberg Consulting.
SNYDER RECEIVES STUDENTACCESS SCHOLARSHIP:
Med Lab Tech Student Excels at ACM
CUMBERLAND, Md. (June 20, 2022) –StudentAccess/Heiberg Consulting is recognizing Calvin "C.J." Snyder for his ability to overcome hardships to pursue his academic goals. Snyder, a Cumberland native and a second-year medical laboratory technology student at Allegany College of Maryland, received a $500 StudentAccess Scholarship. He was nominated by Tara DeVore, director of ACM's Pathways for Success TRiO/Student Support Services program.
"Despite having numerous roadblocks thrown in his way over the years, Calvin is one of those students who rises to the occasion despite it all. He is the definition of a determined, humble, and hardworking TRiO student. Our Pathways family feels blessed to be part of this young man's journey into the medical laboratory technology field," said DeVore.
The StudentAccess Scholarship program is an opportunity available to students currently receiving services from a TRiO program, like ACM's Pathways for Success. The StudentAccess Scholarship is a $500 scholarship with no restrictions on how funds are used. According to StudentAccess's website, "The scholarship is based on need and overcoming adversity, with no consideration to GPA. It's designed to give a little extra help to those students who need it most."
A Turning Point
Snyder, who earned his GED in 2012, was laid off in 2020 from a job he had held for over a year. With time to think seriously about his future and money saved from stimulus checks and years of working a variety of jobs, he chose to invest in himself and a career. He wanted a future in healthcare where he could help others. The thought of working behind the scenes in a lab environment as a technician suited his caring nature, so he visited ACM.
Stacey Rohrbaugh, program director for the college's Medical Laboratory Technology program, instantly became one of Snyder's biggest supporters. She met with him for over two hours, explaining the program and career pathways for MLTs and medical laboratory scientists. He immediately enrolled at ACM as a full-time student for the fall 2020 semester.
"A Million Percent Different"
Snyder credits the MLT program for giving him a life that's "a million percent different" from what he had. Although the 68-credit program is intense, but he encourages others to enroll. "MLT seems incredibly intimidating but we have such caring teachers. They make everything work and click [in terms of learning]," said Snyder.
Instructors and ACM staff continue to help Snyder remove barriers to his education. Rohrbaugh recommended him to the ACM Foundation to apply for scholarships and assistance; connected him to Willowbrook Woods, the college's on-site apartment-style housing complex where he's a resident; hired him as a federal work-study student in the MLT lab; and introduced him to the college's TRiO/Student Services Support program – Pathways for Success. "She walked me over to Pathways [for Success] to meet with Tara [DeVore] and encouraged me to apply," said Snyder.
A Path Forward
Pathways for Success, a TRiO Student Support Services project sponsored by the U.S. Department of Education, quickly became a second home for Snyder. The program provides a supportive environment on campus (Humanities, Room 57) for students who are first generation, income eligible, or who have disabilities. The program, which is limited to 140 students, seeks to increase the retention, grade point average, graduation and transfer rates of its students.
"I'm most thankful for Stacey, Tara, and Gerry [Geil, resident director of Willowbrook Woods]," said Snyder. "I had no idea that Tara was going to nominate me [for the StudentAccess scholarship]."
After completing program prerequisites, Snyder officially entered the MLT program this spring and is presently taking summer session courses. His expected graduation date is May 2023. After working for a few years, he hopes to purchase his own home and pursue his bachelor's degree online to become a Medical Laboratory Scientist.