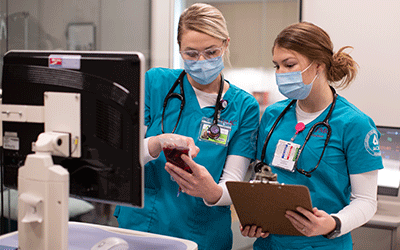 Nursing students Megan Green and Jordyn Fuller collaborate in the sim lab.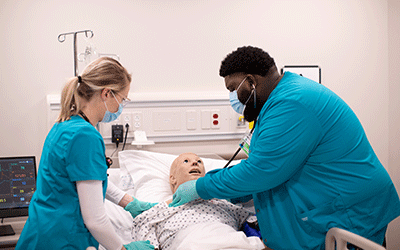 Green and Keon-te Smith use a sim lab "patient" to practice nursing skills.
ALLEGANY COLLEGE OF MARYLAND RECEIVES NEARLY $750,000 GRANT, EXPANDS NURSING PROGRAM
CUMBERLAND, Md. (June 7, 2022) – Allegany College of Maryland is pleased to announce the receipt of a $749,215 Nurse Support Program II (NSP II) grant from the [Maryland] Health Services Cost Review Commission through the Maryland Higher Education Commission. ACM received the second highest NSP II grant award in the State.
GRANT STRENGTHENS CAPACITY
The goal of NSP II grants is to expand the capacity to educate nurses by increasing faculty and strengthening nursing education programs at Maryland institutions. ACM will use its NSP II grant to move additional evening nursing students off its waitlist and into its classrooms and labs. The college will hire additional nursing instructors for its evening nursing program and offer its now-biennial program annually beginning in January 2023. The change doubles its evening nursing program's capacity to alleviate, in a small way, the existing nursing shortage. It also makes it easier for many working professionals and career-changers to pursue their nursing degree. The evening program, which currently accepts 30 students, will eventually accept a cohort of 40 future nurses.
52-YEAR HISTORY OF TRAINING NURSES
Allegany College of Maryland first began offering an associate degree in nursing during the 1969-1970 academic year. The program expanded in 1972 when the long-standing Memorial Hospital School of Nursing's nursing curriculum was transferred to the college. Since that time, the college has been the region's leading educator of nursing professionals.
ACM offers students the chance to learn using high-tech educational equipment. Its most recent addition is a cutting-edge nursing clinical simulation lab where students perform a variety of procedures and receive real-time feedback from instructors through a video/audio monitoring system.
FLEXIBLE, ACCREDITED PROGRAMS
As of January 2023, ACM's nursing program will offer in-person daytime and evening cohorts for nursing students, an online LPN-RN program, online CMA-LPN or RN programs, and an in-person daytime practical nursing certificate. The college's nursing program, accredited by the Accreditation Commission for Education in Nursing, is approved by the boards of nursing for Maryland and Pennsylvania. Its popular online LPN-RN program is now approved and authorized in Delaware, Florida, Maryland, North Carolina, Pennsylvania, Texas, Virginia, and West Virginia.
"ACM holds the 'gold standard' for nursing excellence by obtaining both an eight-year ACEN accreditation and a ten-year Maryland Board of Nursing accreditation. We're committed to educating highly skilled, highly qualified, and compassionate nurses for our region and communities across the country," said Associate Dean of Nursing Rick Cooper.
CONNECT FOR INFORMATION
For more information about Allegany College of Maryland's nursing program, visit www.allegany.edu/nursing or contact Trina Geisler or 301-784-5570.
Media contact: Kristin Kehrwald, 301-784-5152