FOR MORE INFORMATION
Kristin Kehrwald 301-784-5152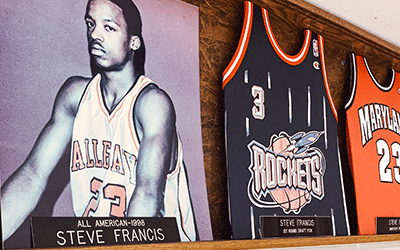 Steve Francis, NBA player and University of Maryland stand out, will return to his home court at the Allegany College of Maryland to cheer on the ACM Trojans during the Feb. 13 men's basketball game at 3 p.m. against Niagara County Community College. Francis attended ACM for the 1997-98 season and his picture is proudly displayed at its arena's entrance.
NBA Legend Steve Francis Returns This Sunday to Allegany College of Maryland
CUMBERLAND, Md. (Feb. 10, 2022) – Allegany College of Maryland will host an extraordinary guest at the Bob Kirk Arena this Sunday: NBA legend, University of Maryland stand out, former JUCO All American, and ACM Trojans men's basketball player, Steve Francis. Francis will "come home" to ACM to attend the 3 p.m. men's basketball game against Niagara County Community College.
Community Turnout Expected.
Francis's return to the Bob Kirk arena at ACM began with a post on social media showing him standing on home court of the Xfinity Center at University of Maryland. ACM Trojans joked that his "seat in Cumberland is still bronzed and ready for you anytime." Plans were quickly made.
"We know the community idolizes Steve Francis and we are extremely honored to have him return," said Tommie Reams, athletic director at Allegany College of Maryland.
An Allegany College of Maryland, JUCO All-American.
Francis played under Hall of Fame Basketball Coach Bob Kirk at Allegany Community College, now Allegany College of Maryland, during the 1997-1998 season. Francis became the first player to take two unbeaten teams into the National Junior College Tournament: one being the Trojans. In a game for the Trojans, he recorded a quadruple double against Shawn Marion, a long-time rival from Vincennes University. A short video of Francis from ACM's archives is available.
Francis transferred from ACM to the University of Maryland to catapult the Terrapins that season to a #2 national ranking. He finished the season averaging 17 points per game, 4.5 assists per game, and 2.8 steals per game. He was a consensus second-team All-American and was named a finalist for the Wooden and Naismith Player of the Year Awards. "The Franchise" led the Terps to a 28-6 record, a No. 2 seed in the NCAA Tournament and earned first-team All-ACC honors in his lone collegiate season.
A 10-Year NBA Career.
After UMD, Francis embarked on a 10-year NBA career, predominantly with the Houston Rockets and later with the Orlando Magic and New York Knicks. He was a contestant in the NBA's Dunk Contest and earned Co-Rookie of the Year honors in 1999-2000, as well as being selected as the second overall pick in the NBA draft.
Currently, Francis works with The Steve Francis Foundation which supports at-risk youth with educational and recreational opportunities. Above all else, his pride and joy are his two children, Shailyn and Steven Jr.
More information about the men's basketball team is available at https://www.allegany.edu/athletics/mens-basketball.html. To reach ACM athletics, please contact Tommie Reams, athletic director, at 301-784-5264.