FOR MORE INFORMATION
Kristin Kehrwald 301-784-5152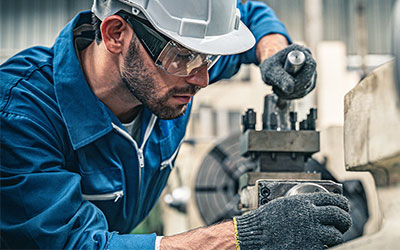 In celebration of Manufacturing Month, Allegany College of Maryland and the Cumberland Economic Development Corporation will host a Manufacturing Job Fair on Oct. 12. [Stock image of manufacturing worker.]
MANUFACTURING JOB FAIR AT WESTERN MARYLAND WORKS AT ACM:
October is Manufacturing Month
CUMBERLAND, Md. (Oct. 3, 2022) –Allegany College of Maryland and the Cumberland Economic Development Corporation will host a Manufacturing Job Fair from 1 to 5 p.m. on Wed., Oct. 12 at Western Maryland Works at Allegany College of Maryland. Jobseekers will have the chance to meet face-to-face with employers from American Efficiency Services, Berkeley Springs Instruments, FedEx – Hagerstown, Garrett Container Systems, Hub Labels, Mellott, Northop Grumman and Schroeder Industries, among others.
The job fair is free and open to the public. Jobseekers should prepare for on-the-spot interviews and have, on hand, information about their credentials and employment history. Western Maryland Works is located at 37 Lane Ave in LaVale. More information is available by contacting 301-784-5281 or jlight@allegany.edu.
Information about ACM's workforce development and degree programs at Western Maryland Works is available at www.allegany.edu/western-maryland-works.
Manufacturers in the United States need to fill 4 million jobs by 2030 according to a workforce study by The Manufacturing Institute and Deloitte. A Sept. 26 New York Times article, "Factory Jobs Are Booming Like It's the 1970s," noted that an increase in the number of jobs added by American manufacturers well over and beyond the number of jobs they shed during the pandemic recession.
Nationally October is recognized as Manufacturing Month with the first Friday of October known as MFG (Manufacturing) Day, manufacturing's "biggest annual opportunity to inspire the next generation to start careers in modern manufacturing."