FOR MORE INFORMATION
Kristin Kehrwald 301-784-5152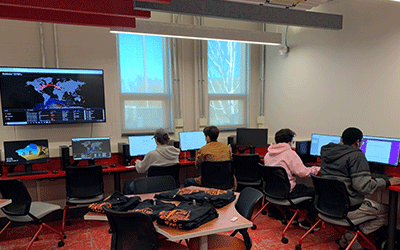 ACM Cyber Security Club students are shown 'in battle' in the Hackathon as they compete in MAGIC's Capture the Flag 13 ethical hacking cybersecurity competition. The club placed eighth overall.
CUMBERLAND, Md. (Nov. 10, 2022) – Allegany College of Maryland students Caleb Boyd of Cumberland, Chase McCoy of Ridgeley, David Ogbonna Okwubizu of Laurel, and Nicholas Swick of Oldtown placed eighth overall in a recent cybersecurity competition. The students, members of the ACM Cyber Security Club, competed against 21 teams of high school, undergraduate and graduate students and even professional cybersecurity specialists on Saturday, Oct. 22, 2022.
Capture the Flag 13
The Mid-Atlantic Gigabit Innovation Collaboratory (MAGIC) hosted the Capture the Flag ethical hacking cybersecurity competition. ACM faculty members Richard Soderman, Jerry Hoover and Jim House oversaw the club members' participation. Autumn Becker, director of the IT Center of Excellence, facilitated the club's participation.
MAGIC Inc., a nonprofit organization in Westminster, is dedicated to building tech communities through cutting-edge innovation, entrepreneurial incubation and public education.
Room to Hack and Learn
Cyber Security Club members used the college's new Hackathon space in the Technology Building to participate in the competition. The space operates as a "sandbox" – an isolated environment independent from the college's network where students can gain hands-on experience defending against malicious cyber attacks or preventing system failures.
Students helped set up the Hackathon network and equipment and are responsible for its maintenance with Computer Technology Program faculty members.