FOR MORE INFORMATION
Kristin Kehrwald 301-784-5152
The Gardyn units grow food vertically using a cross of aeroponic and hydroponic technologies. ACM faculty and staff who serve as caretakers for the units use a simple app to control and monitor their units.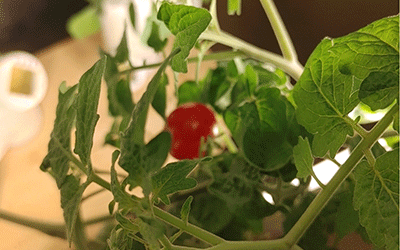 The first cherry tomato grown on one of the college's three hydroponic Gardyn units made its debut in early March.
STUDENTS ACCESS FRESH FOOD THANKS TO GARDYN DONATION:
90 Bags of Produce Distributed in 3 Months at ACM
CUMBERLAND, Md. (Apr. 4, 2022) – When Allegany College of Maryland asked Gardyn for help growing fresh produce for students in need, it didn't expect to receive triple its request. But Gardyn generously donated three freestanding Gardyn units and one-year memberships for each unit to Allegany College of Maryland's The Pantry through its G3 Initiative, Gardyn Grows for Good. The Pantry, which provides food, personal care and supply items to students in need, was one of eight recipients to receive Gardyn units and support last year.
As of March 31, The Pantry distributed 48 bags of salad mix and 42 bags of herbs to students. Current ACM students may receive bags of harvested produce by emailing thepantry@allegany.edu.