FOR MORE INFORMATION
Kristin Kehrwald 301-784-5152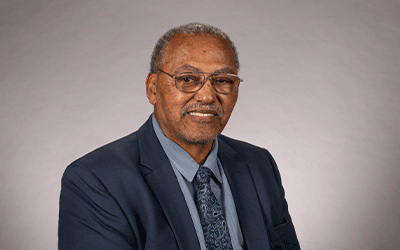 City Councilmember Eugene T. Frazier is a retired CSX foremen and former chair and president of the Brotherhood of Railroad Signalmen Local 31.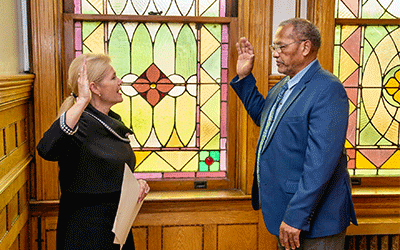 Dawne D. Lindsey, clerk of circuit court for Allegany County, officially swears in Trustee Eugene T. Frazier in early April.
ALUMNUS EUGENE T. FRAZIER JOINS ALLEGANY COLLEGE OF MARYLAND BOARD OF TRUSTEES:
Cumberland Councilmember Brings Wealth of Experience
CUMBERLAND, Md. (Apr. 12, 2022) – Eugene T. Frazier, a member of the Cumberland City Council, has been named to the board of trustees of Allegany College of Maryland. He was appointed by Maryland Governor Larry Hogan to fill the board position left vacant by Joyce Lapp who served for more than two decades as a college trustee.
Lauded for being one of the "most accessible elected officials" by Allegany Magazine, Frazier was first elected to serve on the City of Cumberland's five-person City Council in November of 2016 and subsequently reelected in November of 2020. He serves on the Council's Human Relations Commission.
"As a [ACC, now ACM] student, I got so much from this college – a great education, opportunities I couldn't have imagined, and the chance to work with people who really became family. I know the college from the perspective of a parent, too, as two of my three children are [ACM] graduates. I'm honored to give back in this way and guide the college forward," said Frazier.
Frazier retired from CSX in 2015 after 33 years of service, including 21 years as signal foreman. He served as the chair and president of the Brotherhood of Railroad Signalmen Local 31. Frazier was previously an independent monitor and a work experience program director for the Western Maryland Consortium. He worked for other large employers of note during the 1970s, including Kelly Springfield, where he was employed in the radial truck tire department and became an electrician apprentice; the Pittsburgh Plate Glass Company, and the Allegany Ballistics Laboratory. Frazier also owned EZ Maintenance, a professional services company, in the 1990s.
Frazier attended Allegany College of Maryland for one year before transferring to the University of Maryland. In 1975, he was part of successful efforts to revitalize and reorganize the local NAACP Chapter 7007. Frazier transferred back to ACM and earned an associate degree in business administration in 1978. He completed additional coursework at the college post-graduation. Frazier was an active leader on campus, serving as both as vice-president and president of the Black Student Alliance and the Student Government Association. While president of SGA, he represented the college at national, state, and regional conferences.
A life-long resident of Cumberland, Frazier serves in leadership roles on corporate and community boards, including Chessie Federal Credit Union, the Human Resources Development Commission of Allegany County, Tri County Council for Western Maryland, UPMC Western Maryland's Community Advisory Board, and the Western Maryland Scenic Railroad Development Corporation. He is a member of NAACP 7007, and active in a variety of community causes as time permits. A cancer survivor, he is an active fundraiser for the American Cancer Society's Real Men Wear Pink campaigns.
"Eugene is an exceptional addition to our board. He brings an invaluable perspective to the table, thanks to his in-depth understanding of the business community, his incredible public service post-retirement, and supervisorial experience. A believer in education and people-building, he understands what it takes to support a college community that continuously empowers its students and our region for generations to come," said Kim Leonard, chair of Allegany College of Maryland's Board of Trustees.