FOR MORE INFORMATION
Kristin Kehrwald 301-784-5152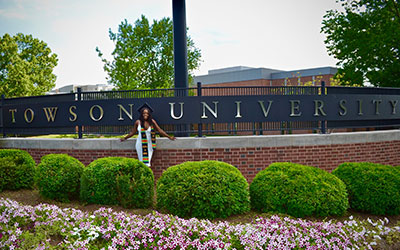 Abisola Iguade, shown at her alma mater, Towson University, is one of the successful transfer students ACM is celebrating online as part of National Transfer Student Week and its year-round initiative to promote planning for transfer. Iguade describes ACM as a "great way for finding your way" and encourages students to access "unlimited resources to help you be successful and reach your goals."
CUMBERLAND, Md. (Oct. 5, 2022)–Allegany College of Maryland will host an in-person Fall Transfer Fair from 10 a.m. to 1 p.m. on Thurs., Oct. 13 in its College Center Lobby. Representatives from more than 30 four-year colleges and universities in the mid-Atlantic are expected to attend. Students will have the chance to learn about majors and minors, the transfer credit process, application deadlines, scholarship opportunities, and more.
Knowing what to ask representatives in a busy transfer fair environment can be a challenge. A list of questions for students to consider asking is available on ACM's Fall '22 Transfer Fair webpage.
Suzanne Wright, the college's transfer advising specialist, is available at 301-784-5204 to field additional questions about the fair and offer guidance.
The college's Advising Center will host Frostburg State University admissions staff for extended transfer advising appointments from 1:30-4 p.m. following the Fall Transfer Fair.
National Transfer Student Week, held Oct. 17-21, seeks to "challenge assumptions, build empathy, and instill transfer pride" on college campus across the U.S. This year's theme encourages students to get 'plugged in' to transfer resources and supports at all phases of their transfer student experiences. To inspire others to overcome barriers to education in pursuit of their academic goals, ACM is sharing profiles of select successful transfer students on its website at https://bit.ly/3UYakcx. Current profiles include Brady Barnhart, a 2013 ACM graduate who received a master's degree from FSU, and Abisola Iguade, a 2017 graduate who received a bachelor's degree from Towson University. To celebrate National Student Transfer Week, ACM will reveal its newest transfer student profiles on Oct. 17.