FOR MORE INFORMATION
Shauna McQuade 301-784-5154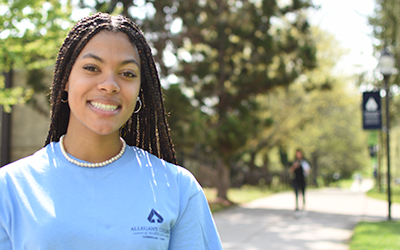 ACM ANNOUNCES FALL SEMESTER, VIRTUAL INFO. SESSION, NEW PROGRAMS

CUMBERLAND, Md. (Aug. 4, 2022) – Allegany College of Maryland will welcome its fall semester students to campus on Monday, Aug. 22, with the start of its sixty-first academic year. The majority of the college's classes will be in-person with online, flex, and hybrid courses offered. Registration for the fall semester is still open. Applying for admission is available online and is free.
ACM will host a virtual information session at 6 p.m. on Wednesday, Aug. 10. Interested individuals are requested to register at allegany.edu/virtual-info-session. Daily, in-person campus tours are also available, Monday-Friday, for prospective students and their families. Advance bookings are required and may be scheduled by contacting the Thomas Welcome Center at 301-784-5005.
New and returning student advising sessions will take place between the hours of 8:30 a.m. to 4 p.m. in the ACM Advising Center. Students may request virtual advising sessions by calling 301-784-5198. Evening virtual advising sessions are available by appointment only. New students are encouraged to attend an in-person or virtual new student orientation session. Registration is available at allegany.edu/student-orientation.
Fall books are available for purchase and online orders are recommended. The Campus Store's pick-up window is open from 8:30 a.m. to 4:30 p.m., weekdays. The store is also open for walk-ins from 10 a.m. to 4 p.m. Extended hours will be held on Saturday, Aug. 20, from 11 a.m. to 2 p.m., and Wednesday, Aug. 24, from 8:30 a.m. to 6 p.m.
The college's student-serving offices are currently open from 8:30 a.m. to 4:30 p.m., Monday through Friday. For the latest on ACM's COVID-19 guidelines and protocols, visit allegany.edu/coronavirus.
This semester, ACM is introducing three new academic programs, including a Data Analytics degree and certificate, a Social Media Marketing certificate and an Engineering - Automated Manufacturing Technology degree. To learn more about these exciting and popular career paths, visit allegany.edu/engage-your-future/new-academic-programs-fall-22.html.
For more information on ACM programs or questions, email info@allegany.edu or call 301-784-5005.