FOR MORE INFORMATION
Kristin Kehrwald 301-784-5152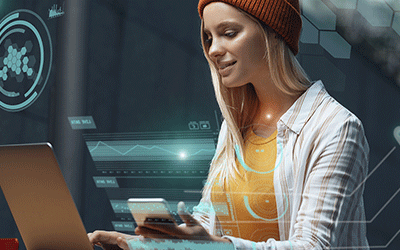 ACM debuts a data analytics associate degree and certificate program this fall, making it the only Maryland community college to offer students both options. Students with strong backgrounds in math encouraged to apply. Employment in the data analytics field is projected to grow 25% from 2020 to 2030. [Stock image.]
ACM OFFERS NEW DATA ANALYTICS DEGREE AND CERTIFICATE
CUMBERLAND, Md. (Apr. 22, 2022) – Allegany College of Maryland debuts a data analytics associate degree and certificate program this fall.
From Data to Insight.
Data analysts "mine" or collect data that they "scrub" or clean and organize to make sense of it. They interpret their findings into actionable recommendations, enabling the company, education institution, nonprofit organization or agency they work for to make smarter business decisions. Because the role of the data analyst relies heavily on statistical analysis, problem solving and communication, ACM's program prepares students to be comfortable with each of these elements.
Courses are taught by both computer science professors and institutional researchers.
Data Analytics at ACM.
The 60-credit career program, which prepares students to seek employment in data analytics, prepares students to learn and practice a broad set of skills in programming, data analytics, graphics, and visualization. Program students create data models and data warehouses, develop and use various digital graphics techniques and data visualization methods, and use various statistical and predictive or applied applications and methods. Successful program completion qualifies a student to apply for an associate of applied science degree in data analytics.
The 30-hour certificate program, which can be completed in one year, offers students with a working knowledge of the latest trends, tools, and techniques related to the study of data analytics. While it's tailored for career changers or students in a related degree program who are looking to enhance their resume, all credits are transferrable into the associate degree program.
Growing Field with Local Demand.
According to the U.S. Bureau of Labor Statistics, employment in the field of data analytics is projected to grow 25% from 2020 to 2030.
"Presently we're the only Maryland community college to offer both an academic degree and a certificate program in data analytics. From Hulu to Pearson, data analysts are in high demand by companies. I'm already hearing from local employers through my work with our Program Advisory Committee and the IT Center of Excellence about their needs for workers with this skill. The [job] market is here for those looking to stay in our region or even work remotely," said Autumn Becker, program director and executive director of the award-winning Western Maryland IT Center of Excellence.
Connect for Information.
ACM, which will offer two data courses this fall and four in the spring, is accepting program applicants for both the degree and certificate program. Students with strong backgrounds in math are encouraged to apply. Autumn Becker, program director, may be reached at 301-784-5434. More information is available at www.allegany.edu/data-analytics.