FOR MORE INFORMATION
Kristin Kehrwald 301-784-5152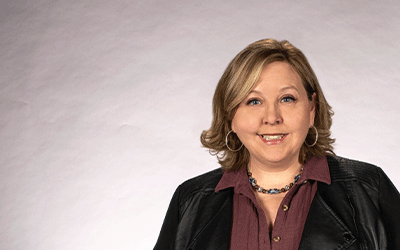 Luanne Cook is one of only 17 fellows selected for 2022-23 NextLevel Postsecondary CET Leadership program by the Association for Career and Technical Education.
COOK RECEIVES PRESTIGIOUS CTE FELLOWSHIP, AVAILABLE FOR OUTREACH
CUMBERLAND, Md. (June 6, 2022) – The Association for Career and Technical Education (ACTE) recently named Luanne Cook of Maryland as a Fellow for the NextLevel Postsecondary CTE Leadership Program. Cook, who serves as a Career and Technical Education (CTE) Recruiter and Retention Specialist at Allegany College of Maryland, is one of only 17 fellows selected for 2022-23 cohort.
HELPING OTHERS REALIZE THEIR WORTH
Cook joined ACM in 2021 after spending much of her career in social work. As a recruiter for the college's Career and Technical Education programs, she focuses on reaching underrepresented special populations and supporting their desire to pursue higher education at the community college level. In Cook's secondary role as a retention specialist, she uses proven strategies to address retention deficiencies and better connect students with community and campus resources.
"With a lack of access, equity and diversity to education opportunities can come an understandable lack of confidence. Luanne's passionate about boosting confidence and helping students use equitable and inclusive education opportunities in Career Education to achieve their goals. She wants them to realize their worth and feel of value to their families and their communities," said Dr. Bill Rocks, Dean of Career Education at the college.
Cook helps foster student success from admission to graduation. "Career and Technical Education, or CTE, is a wonderful way for individuals to earn credentials in a short time with minimal to no cost. Whatever your interest, ACM has a program that will work for you. There are a number of resources in our area that will help pay for individuals to obtain the skills they need, and my role allows me to connect students to these resources," said Cook.
EDUCATING THE COMMUNITY
Those interested in learning more about CTE at Allegany College of Maryland are encouraged to contact Cook at 301-784-5044 or visit allegany.edu/career-and-technical-education. She's also available to speak with community groups and organizations about removing barriers to educational access and empowering special populations.
Special populations, as defined by the Strengthening Career and Technical Education for the 21st Century Act (Perkins V), include individuals with disabilities; individuals from economically disadvantaged families, including low-income youth and adults; individuals preparing for nontraditional fields; single parents, including single pregnant women; out-of-workforce individuals; homeless individuals; youth who are in, or have aged out of, the foster care system; youth with a parent who is a member of the armed forces and is on active duty; and individuals with other barriers to educational achievement, including individuals with limited English proficiency.
ABOUT THE FELLOWSHIP
The NextLevel Fellowship is sponsored by the ECMC Foundation, a national foundation working to improve post-secondary outcomes for students from underserved backgrounds, and powered by the Association for Career and Technical Education (ACTE.) Specifically, a NextLevel Fellowship provides professional and career growth opportunities to the next generation of leaders in postsecondary CTE programs.
This is ACTE's fourth cohort of postsecondary CTE professionals in leadership development activities. Through this program, fellows build their leadership abilities as they work alongside peer professionals and an experienced mentor in this year-long professional development experience. Fellows also elevate their interpersonal skills and capacity to communicate, collaborate, network, problem solve and use time and resources effectively. The core capstone project is to identify a professional objective to address in each fellows' institution and carry it out to realize a lasting impact. This program is intended to develop the organizational leadership and management skills of postsecondary CTE professionals, with an emphasis on addressing the needs of underserved populations. The NextLevel Fellowship also includes a research study to help determine what efforts best contribute to leadership development among postsecondary CTE professionals and the creation of resources that can be widely distributed to support others in the field.