FOR MORE INFORMATION
Kristin Kehrwald 301-784-5152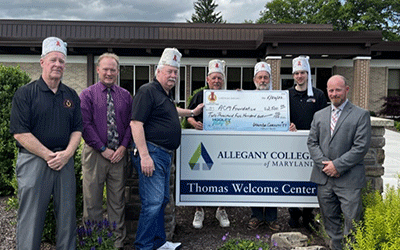 L-R: Eric Harper, David Jones, Tom Farrell, Jim Stafford, Steve Penrod, Drew Farrell, and Rob Adams.
SCHOLARSHIP FUND ESTABLISHED AT ALLEGANY COLLEGE OF MARYLAND
CUMBERLAND, Md. (June 10, 2022) – In keeping with their commitment to our community, Wamba Caravan #89 International Order of the Alhambra members officially established the Alhambra Wamba Caravan 89 Hooley Plunge Scholarship fund at Allegany College of Maryland during a recent visit to the college's Thomas Welcome Center. Individuals interested in learning more about the scholarship fund are asked to contact the ACM Foundation at 301-784-5200 or sforeman@allegany.edu. More about ACM is available by visiting www.allegany.edu.