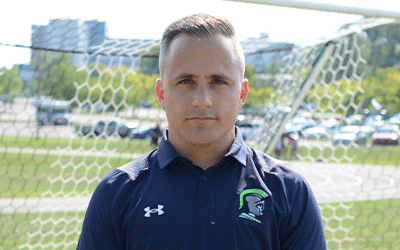 Randy Jarrett, currently the assistant coach of men's soccer at Allegany College of Maryland, was named the head coach of the college's women's soccer team.
CUMBERLAND, Md. (Mar. 24, 2023) – Allegany College of Maryland's women's soccer team is recruiting players and making coaching changes. Randy Jarrett was named head women's soccer coach and Dustin Wise was named assistant coach.
Jarrett has more than 12 years of coaching experience. He is president of the Tuscarora Youth Soccer Club in New Bloomfield. He has multiple coaching certifications, including a United States Soccer Federation "E" License, and multiple United Soccer Coaches' diplomas, including a Level 6 diploma, Goalkeeping Level 2 diploma, and two special topic diplomas in Training the Goalkeeper and The Mental Game.

Jarrett will continue as the men's soccer assistant coach at ACM. Previously, he was the head soccer coach at James Buchanan High school and took the team to the playoffs for the first time in seven years. He also coached the McConnellsburg Junior High Soccer Club, where his team was defeated only once during his tenure. A soccer player at Boonsboro High School, he played midfield in the state quarterfinal during the 2004 season and attended Virginia Tech.
Jarrett on the upcoming program start. "Reintroducing women's soccer at Allegany College of Maryland marks a new era of opportunity for talented athletes in Cumberland and the surrounding areas. With the accomplishments of the men's program, we want to offer the same environment of excellence for skilled female players to showcase their abilities and elevate their game. As someone who's had great success coaching female players in the past, I'm glad to help empower women in athletics at ACM."
Lady Trojans Women's Soccer program is a member of the NJCAA (National Junior College Athletic Association) and will compete as Division II in the Maryland Junior Athletic Conference and the Region 20. The women's soccer schedule is slated for an early August start and expected to be released in midsummer.
Jarrett and his spouse have two children under five and live in Mercersburg. In his spare time, he enjoys spending time with his family. His other interests include personal finance, auto racing, professional football and all things Virginia Tech.
Assisting Each Other
Men's Soccer Head Coach Dustin Wise, who will serve as Jarrett's assistant women's soccer coach, brings more than 14 years of experience coaching collegiate and club teams. He coached the first USCAA All-Academic Team and All-American in Central Penn College's program history and leading Scotland Campus Sports to a NACA Division 1 national championship. A veteran of the U.S. Air Force, he played semi-pro soccer in Germany with TUS Landstuhl.
"Because Coach Jarrett helped me in 2022 with the men's soccer team, I know he is going to do a fantastic job leading the women's team. We're both excited for what's in store for the teams this fall. The surrounding community will have the chance to watch some incredible collegiate soccer."

Reemergence of Athletic Programs
"Our area has a rich history of growing talented female soccer players. In examining where we could improve our athletic programs, we've placed an emphasis on the importance of women's sports. The growth of these teams and the development of strong, competitive players is at the forefront of our plans. We're seeing interest from local student-athletes, including Cathy Cessna from Bishop Walsh High School who we signed in February," Athletic Director Tommie Reams said.
"Every sport at ACM, now including women's soccer, offers viable ways for local student-athletes to continue their athletic careers while earning an affordable education," said Assistant Athletic Director Mason Heyne.
Athletic Scholarships Available
Through the generosity of donors to the ACM Foundation, the athletic department awards scholarships to select student-athletes. More information is available by contacting Reams at 301-784-5264.
Contact
Jarrett can be reached at jjarett@allegany.edu. Information about the college's women's soccer team is available at www.allegany.edu/athletics/womens-soccer or by calling 301-784-5264. The team is continuing to accept interested players.
Media Contact: Courtney Crislip, Health and Physical Education Assistant Professor/Sports Information Coordinator