FOR MORE INFORMATION
Shauna McQuade 301-784-5154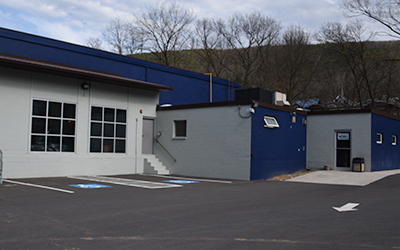 (Western Maryland Works Building)
Dedication and Ribbon Cutting Planned for
Western Maryland Works Training Center and Makerspace


CUMBERLAND, Md. (Aug. 11, 2022) – Dr. Cynthia S. Bambara, President of Allegany College of Maryland, will celebrate the official dedication and ribbon cutting of the Western Maryland Works Training Center and Makerspace at 4:00 p.m. on Thursday, Aug. 18. The center is located at 37 Lane Avenue in LaVale, Md. All are invited to attend. Dr. Bambara will be joined by special guests, as well as many of ACM's community partners.
The dedication and ribbon cutting will celebrate the 33,000 square foot center, a satellite Allegany College of Maryland campus facility. The center contains over $3.5 million of state-of-the-art high-tech training equipment. The space also includes instructional labs, classrooms, collaborative areas, and staff offices. Tours of the center and demonstrations will be offered.
The mission of Western Maryland Works is to meet workforce demand for manufacturing and technology jobs by preparing future employees for our region's manufacturing and technology needs. The Makerspace is a collaborative workspace offering 3D printing, commercial grade digital fabrication, CNC machining, and woodworking labs to the public and local businesses. For more details, visit allegany.edu/wmdworks.
For more information on the dedication and ribbon cutting, contact Allissa Tomlinson by calling 301-784-5340 or emailing atomlinson@allegany.edu.