FOR MORE INFORMATION
Kristin Kehrwald 301-784-5152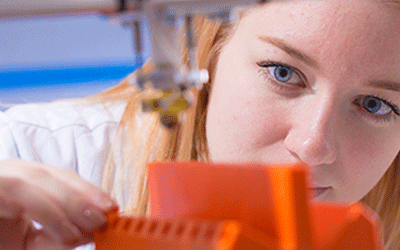 MAKERSPACE ANNOUNCES OPEN HOUSES, OFFICIAL OPENING
CUMBERLAND, Md. (May 20, 2022) – Calling all creators, artists, woodworks, crafters, designers, entrepreneurs, and dreamers! The Makerspace at Western Maryland Works at Allegany College of Maryland will host open house events from 4 to 8 p.m. on May 26 and every Thursday in June.
Western Maryland Works is located at 37 Lane Avenue in LaVale. For those unable to attend, personal tours may be scheduled by calling 301-784-5077.
OFFICIALLY OPEN FOR BUSINESS.
The Makerspace officially opens on May 31. To celebrate its launch, ACM is offering an introductory $5/day membership until August 1, 2022. Courses, make and take programs, and events commence in early fall. Makers under the age of 16 must be accompanied by an adult. Except for college holidays, the Makerspace will be open to makers from 10 a.m. to 5 p.m. on Mondays and Wednesdays, and from 2 to 8 p.m. on Tuesdays.
A MISSION-FORWARD MAKERSPACE.
The Makerspace at Western Maryland Works is committed to providing an affordable place where ideas, designs, and concepts are turned into tangible items and objects. It seeks to connect makers of all ages to machinery, tools, technology, expertise and hands-on education in a spacious, collaborative and safe environment. ACM staff are purposefully seeking growth opportunities, leadership, advisers, instructors and collaborators with diverse experiences and perspectives.
AVAILABLE MAKER EQUIPMENT.
With additional equipment and resources yet to come, the Makerspace's current offerings include vinyl cutting, plot (banner/sign) printing, UV printing, laser engraving and cutting, fabric printing, 3D printing including FDM and PolyJet printing, limited wood cutting, wood CNC, limited metal cutting, and plasma cutting CNC.
CONNECT FOR INFORMATION.
Individuals or groups are encouraged to contact David Smarik at 301-784-5077 or visit www.allegany.edu/western-maryland-works/makerspace or www.facebook.com/WestMdWorks/.