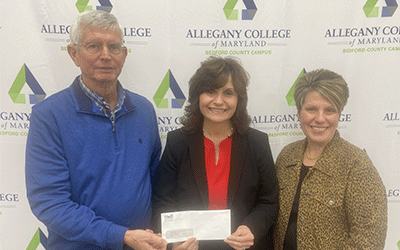 L-R: Foundation Chair Dan Koontz, Hometown Bank President/CEO and Foundation Vice-Chair Beth Manges, and ACM PA Advancement Director Leah Pepple.
EVERETT, Pa. (Dec. 7, 2022) – Three hundred and thirty-eight high students from Bedford, Blair, Fulton, Huntingdon and Franklin counties attended early college for free this fall at the Allegany College of Maryland Bedford County Campus. Thanks to the generosity of corporate donors like Hometown Bank of PA, the students' tuition, fees and textbooks were 100% paid for by the Bedford County Regional Education Foundation.
HOMETOWN SUPPORT
Hometown Bank of PA presented a $14,000 Educational Improvement Tax Credit Program (EITC) donation to the Bedford County Regional County Foundation. Beth Manges, president/CEO of Hometown Bank, is also the foundation's vice-chair. The bank has made $68,000 in EITC donations to the foundation since 2016.
"Hometown Bank is pleased to support educational programs through the Bedford County Regional Education Foundation that can directly impact the education and futures of students," said Manges. "A number of our employees, myself included, attended ACM and received an excellent education. We hope our donation will enrich the lives of individuals as they pursue their career goals through education."
Hometown Bank of PA has supported other programs through EITC donations, including Learning Lamp, Bedford County Chamber Foundation, Claysburg Education Foundation, Spring Cove Education Foundation and Northern Bedford School Foundation.
INCREASED DEGREE ATTAINMENT
Early college programs have been found to positively affect outcomes for both high school and colleges. A 2017 review of studies conducted for the Institute of Education Sciences – the nonpartisan statistics, research and evaluation arm of the U.S. Department of Education – found that "students who accumulate college early and consistently are more likely to attain a college degree."
For more information about early college offerings at ACM Bedford County Campus, please call 814-652-9528 ext. 6202 or email tkravets@allegany.edu. Those interested in the Bedford County Regional Education Foundation should contact 814-652-9528 ext. 6223.