FOR MORE INFORMATION
Kristin Kehrwald 301-784-5152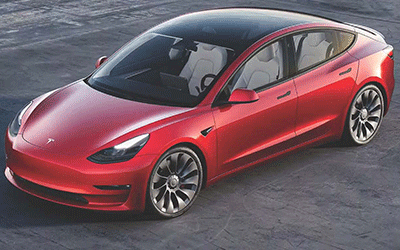 Allegany College of Maryland's automotive technology program will soon offer current and future service attendants and technicians a new résumé-builder: The chance to learn to service a Tesla electric vehicle. (Image courtesy of Tesla.)
STUDENTS LEARN GREENER AUTOMOTIVE TECHNOLOGY SKILLS AT ACM
CUMBERLAND, Md. (Jan. 26, 2022) –Allegany College of Maryland's automotive technology program will offer current and future service attendants and technicians a new résumé-builder: The chance to learn to service a Tesla electric vehicle. Thanks to a $100,000 Innovation Grant from the Maryland State Department of Education, a fully electric Tesla Model 3 will round out the college's teaching fleet this spring, joining another EV, a Chevrolet Bolt, as well as gasoline and diesel engine vehicles and stand-alone engines.
"It's not every day that you order a Tesla," said David Jones, the college's vice president of Advancement and Community Relations. "But as car makers increasingly produce more EV and hybrid vehicles, specialized training on these unique systems is in demand."
For Ray Hunt, program director, it's part of preparing students to meet the demands of ever-changing technologies in the automotive service industry. When the college added domestic pickup diesel engines to its automotive course material, it tapped into an unmet need – preparing graduates to service passenger truck diesel vehicles. ACM sees a similar opportunity with regards to fully electric and hybrid vehicles: The chance to train students and upskill current industry professionals to meet a growing need.
"Getting ahead and staying ahead in the automotive technology industry requires cutting-edge skills. Whether you're just starting out or you've been in the industry for some time, experience with diesel and EV systems increases your marketability," said Hunt.
Program Offers Flexibility
Allegany College of Maryland's automotive technology program, an ASE Education Foundation-accredited program, prepares students to take their Automotive Service Excellence exams upon completion of their training. Students can choose from a One-Year Automotive Technology Certificate, or a two-year career program that leads to an associate degree in automotive technology and/or transfer to a four-year college. Applications for the certificate and degree programs are accepted on a rolling basis. Because the one and two-year programs are sequential in nature, interested individuals are encouraged to contact the program director or the Advising Center for additional information.
Scholarships Available
The ACM Foundation offers five scholarships with multiple awards each specifically for career automotive technology students.
Information
For program information or to enroll in the automotive technology program, contact Ray Hunt at 301-784-5461.