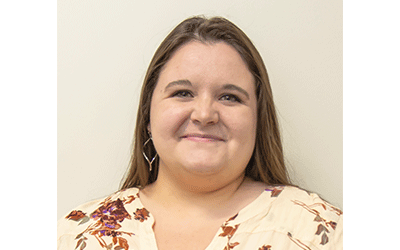 Kelly Shiflett, Computer Technology - Area of Concentration Programming student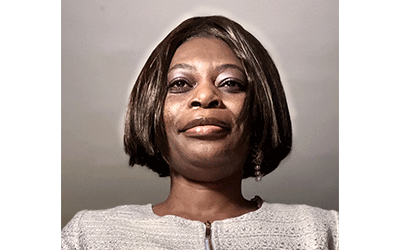 Grace Yeboah, Nursing (online LPN to RN program ) student
CUMBERLAND, Md. (Nov. 28, 2022) – One hundred seventy-seven Allegany College of Maryland students are expected to earn ­­­198 ­­­approximately ­­­degrees and certificates during fall commencement exercises on at 7 p.m. on Friday, Dec. 16, 2022. Kelly Shiflett of Swanton, Maryland, and Grace Yeboah of Dumfries, Virginia, will provide the student commencement addresses. Both Shiflett and Yeboah earned their degrees online.
Kelly Shiflett, who currently holds a 4.0 GPA, graduates with an Associate of Applied Science degree in Computer Technology – Area of Concentration Programming. The second oldest of eight children, she is the first in her family to graduate from college. Originally from Rowlesburg, West Virginia, Shiflett is a 2016 graduate of Preston High School. She was the quintessential kid who liked to read instruction manuals, later receiving a full-ride to a university to study aerospace and mechanical engineering. At 19 after completing her first year of college, Shiflett was diagnosed with a brain tumor. She left college to undergo treatment but the experience left her with uncertainty about her college dreams.
Two long years later, she found herself problem solving professionally as the leader of product information for Webrestaurant and loved the work. While living in Cumberland, she made the decision to enroll in computer technology at ACM and transferred in earned credit. Being able to take flex courses made it possible for her to work while earning her degree. She credits Assistant Professor Richard Soderman for encouraging her throughout her studies at ACM. "I could Zoom [contact] him any time when I was stuck," said Shiflett. "He said he was here to help and he meant it." Shiflett is currently a network and computer systems apprentice at IBM and will finish her apprenticeship in April.
Grace Yeboah, who currently holds a 3.8 GPA, graduates with an Associate of Science degree in Nursing. Originally from Ghana, she studied under the British education system and earned a degree in geography and minor in political science from an institution in Accra. She faced sexism, discrimination and limited employment options during the 1990s that led her to immigrate to the United States from Ghana in 2001 and start over. She initially worked in restaurants before taking entry-level healthcare positions. Yeboah earned a GED, completed LPN training and became an LPN in 2006. Since 2011, she's been a home healthcare provider and presently works with pediatric patients.
It was Google searches for online LPN to RN programs that eventually directed Yeboah to ACM. Yeboah restarted academically to enter the college's competitive nursing program, taking general education courses and electives as part of the program's requirements. Viewing it as part of her journey, she quickly became regarded for her exceptional work in these classes. Like Shiflett, Yeboah worked full time while earning her degree. After graduating from ACM, she plans to pursue additional degrees to become a nurse practitioner. "I feel like I was always meant to be here [in the United States]. I love Ghana and my family who still live there, but I've never been a 'typical' African woman," said Yeboah. "Opportunity is everything."
Information about Allegany College of Maryland's fall commencement exercises is available by contacting Joanna DuVall at 301-784-5288.
Contact: Kristin Kehrwald, Communications Coordinator, 301-784-5152