FOR MORE INFORMATION
Kristin Kehrwald 301-784-5152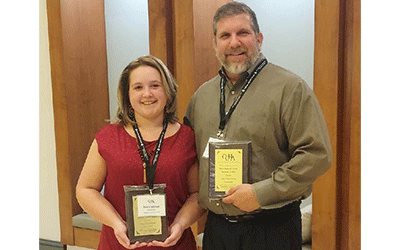 Donna S. Morgan, Expressions 2022's student editor, and Dr. Tino Wilfong, faculty editor, are shown holding Best Magazine awards.
Donna J. Morgan, an Allegany College of Maryland student, and Dr. Tino Wilfong, an associate professor of English, accepted the Best Magazine award for 2022 on behalf of Allegany College of Maryland's Expressions literary magazine during the Community College Humanities Association National Conference. Expressions contributor Sydney Wilfong was also in attendance. The conference was held Oct. 13-15 at Cuyahoga Community College in Cleveland.