FOR MORE INFORMATION
Kristin Kehrwald 301-784-5152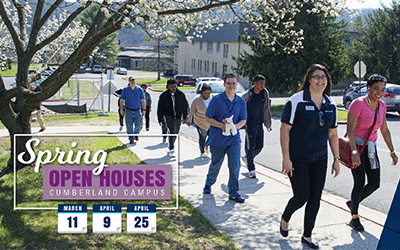 APRIL OPEN HOUSE EVENTS AT ACM
CUMBERLAND, Md. (Mar. 29, 2022) – Allegany College of Maryland will host open house events beginning at 9 a.m. on Sat., April 9 in the gymnasium, and at 8:30 a.m. on Mon., Apr. 25 in the Thomas Welcome Center. Registration is required and available at www.allegany.edu/openhouse.
Tuition vouchers will be awarded, and prospective students will receive an ACM Future Student gift bag that includes their very own ACM t-shirt.
Learn & Enroll.
Future students and their families can get to know ACM and determine their ACM futures. Open houses offer registered attendees opportunities to:
Meet one-on-one with ACM faculty and student recruiters, including representatives from the college's new programs in engineering – automated manufacturing technology, data analytics, and social media marketing.
Take guided tours of the campus and a virtual tour of Willowbrook Woods, the college's student housing complex.
Speak with a Trojan Student Ambassador, a current student who can share first-hand their ACM experience and offer guidance.
Learn about student services and student life.
Enjoy lunch, free-of-charge, in the Metz Café.
Enroll, meet with an advising specialist, and register for summer or fall classes.

Connect for information.
Contact Lauren Winterberg, coordinator of Student Recruitment, at lwinterberg2@allegany.edu or 301-784-5124 for more information or to set up a virtual meeting. Personal college tours can be scheduled by emailing info@allegany.edu or calling 301-784-5005. Sean Aurigemma and Courtney Jensen, college recruiters, are available via text at 301-321-7245 and 240-716-6277, respectively.