Addictions Institute 2019 – A Meeting at the Corner of Wisdom and Science: Combining Timeless Traditions with Contemporary Addictions Treatment (CHE346)
Dr. Sabrina N'Diaye, the highly acclaimed 2018 presenter of the 52nd Institute on Medicine & Religion returns to present this full-day training program designed for addictions professionals. 6 CEUs will be awarded.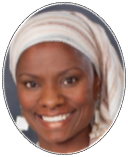 The addictions community represents thousands of years of collective wisdom, and a wealth of knowledge on the beauty of recovery. This training will enhance your knowledge of our honorable professions. The information on the healing powers of compassion, trust, and touch will send you back to your office with a renewed sense of confidence in your ability to guide others. Your discovery of the current research on the healing energy of the group will enhance your experience as a leader. Our exploration on the proven effects of rituals on the brain will help you create new ways to connect with your clients. Our time together will create an opportunity for you to blend your innate wisdom with modern science. Most of all, it will serve as a gentle reminder to keep coming back.
Learning Objectives:
Outline the science between the complementary practices of movement, breathing, and the healing power of the imagination.
Employ three types of guided imagery that can be used in addictions and mental health treatment.
Identify practical exercises involving writing, drawing, and chanting that reestablish a connection with the heart when trauma and stress have shut off that channel to inner wisdom.
Utilize music and movement in sessions to get around emotional blocks without spoken words.
9/27, Friday (1 Session)
9:00AM-4:30PM
ACM: Zimmer Theatre
Sabrina N'Diaye, PhD, LCSW-C
Course Cost: $15.00* (Includes lunch) No Senior Waiver
*Article 27 Statement of Federal Funding. Approximately $3,700 (54% of the program cost) is financed through a federal grant from the Appalachian Regional Commission.
Seating is limited. Register today by calling 301-784-5341.