Allegany College of Maryland has a modern Physical Education Building including the Bob Kirk Arena for basketball and volleyball games, and a well stocked Fitness Center for personal fitness. Additionally, our Cumberland Campus offers outdoor tennis courts, running/walking tracks, a baseball field, a soccer field, an upcoming softball field and areas for intramural games.
Allegany College of Maryland strives to promote a College that enhances lives and the community through education and service. We welcome the public and service providers to our campus. All visitors are expected to conduct themselves appropriately and lawfully at all times. ACM reserves the right to deny entrance to the College or to remove persons from the College grounds who pose a safety risk to our students, faculty, staff, other visitors, or property.
Baseball Field
---
The Allegany College of Maryland Baseball Field, known as 'The Rock,' is the home of the Trojans baseball team. A manicured baselines, lush outfield grass, plus a great playing surface host the field's other amenities including a pitcher's mound and dugouts. A new scoreboard has been sponsored and will be erected for the 2018 season. The Trojans' baseball home is conveniently situated next to Bob Kirk Arena and is close to locker rooms and coaches' offices.
Playing dimensions are 340 feet down the lines, 385 feet in the power alleys and 400 feet to straightaway center.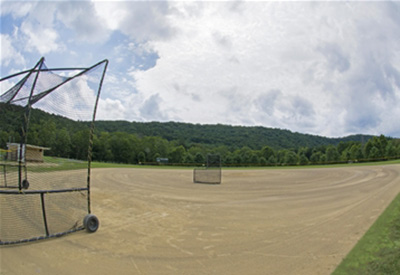 Fitness Center
---
Allegany College of Maryland supports students and employees in the pursuit of a healthy, active lifestyle by offering a well equipped Fitness Center.
The Fitness Center is available to faculty, staff, and students. There is no charge to use the Fitness Center which includes exercise equipment such as:
Dumbbells
Olympic barbells
Rowing machines
Medicine and dynamax balls
Nautilus® Weight machines
Ellipticals
Treadmills
Bikes
Other amenities include:
Full locker rooms
Performance evaluations
Fitness Assessment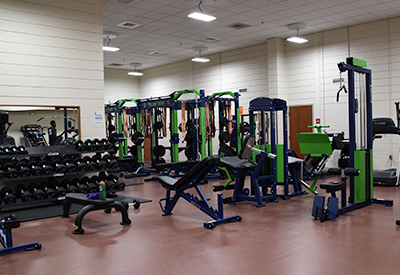 Fitness Center Quality Standards
Proper attire includes closed toe, non-marking shoes, t-shirts, exercise shorts/pants.
No sandals.
No hats.
Athletic gear must be worn at all times. No revealing clothing or clothing with offensive wording will be permitted.
Please use locker rooms for changing into exercise attire.
SECURITY:
Please secure your valuables and belongings in a locker.
Safety of all personal property is the responsibility of the patron.
ACM is not responsible for lost or stolen property.
EQUIPMENT:
Wipe off equipment after every use.
Re-rack weights and return all other accessories to their proper locations when finished.
Weight plates are not to be leaned against mirror, walls or machines.
Dumbbells and weight plates will not be dropped on floor for any reason.
Allow others to "work-in" or take turns. Do not monopolize equipment in the weight room while others are waiting.
Ease weights into position on the machines and do not allow them to slam down.
GENERAL RULES:
Verbal or physical confrontation with staff or other patrons will not be tolerated.
Profanity will not be tolerated.
Inappropriate behavior will not be tolerated.
Vandalism will not be tolerated.
Using or being under the influence of drugs or alcohol is prohibited.
Cell phone use should be limited to music, video and workout protocol utilizing earphones. (No calls or texting)
Failure to abide to these guidelines will result in loss of privileges. Management reserves the right to refuse admittance and/or eject any person from the fitness Center premises failing to comply with any of the above rules and regulations.
* Please review the Fitness Center Guidelines.


Gymnasium
---
Just inside the main lobby of the Physical Education building you will find the entrance to Bob Kirk Arena. Originally built in 1977 the courts have undergone a recent renovation to reveal our new brand and colors. The gymnasium features a full size regulation court on a beautiful wooden floor with bleachers that hold 950. Students and staff take part in various activities and wellness classes in the facility. Many students let loose during open gym hours as a break from the books. In fall and winter, you will find the ACM Trojans basketball and Lady Trojans volleyball teams practicing or playing.
Basketball court playing dimensions are 94 feet long and 50 feet wide.
Volleyball court plating dimensions are 60 feet long and 30 feet wide with pro-series net and guards.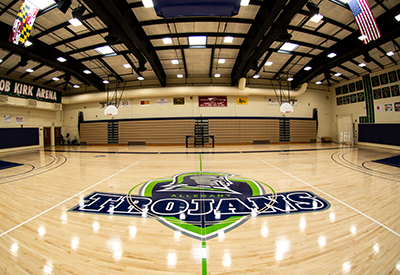 Soccer Field
---
Allegany College of Maryland's Soccer field rests on a natural grass surface adjacent to our beautiful mountains. The Trojans field is maintained, groomed and lined to provide a great playing surface with pro-series goals.
Playing dimensions are 360 feet long by 160 feet wide.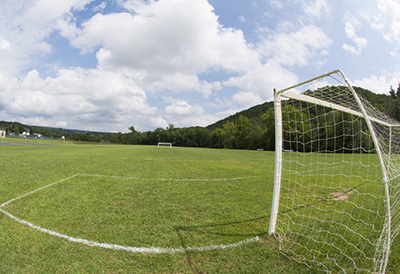 Softball Field
---
Allegany College of Maryland is excited to announce that it has received a grant from the Community Parks and Playgrounds Program for construction of a Softball Field for the Lady Trojans Softball team and the community.
This field was completed in the Summer of 2019, in addition to the field a softball scoreboard will be installed in the fall with the first official game set to take place Spring 2020.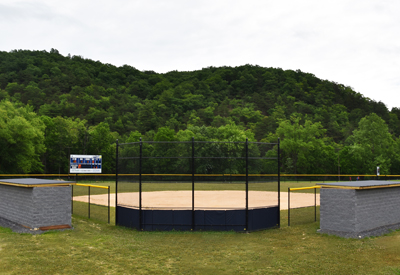 Tennis Courts
---
Scheduled for an extensive update and the addition of lighting for three of the 7 courts, Allegany College of Maryland's Tennis Courts will be professional grade. Enclosed by tall chain -link to keep you from chasing balls too far, the complex is open to the community and hosts group tournaments.
Playing dimensions are 78 feet long and 27 feet wide for each court.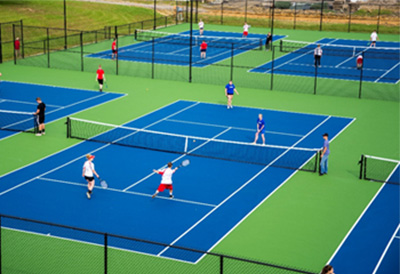 Track
---
Allegany College of Maryland's athletics facilities include an oval track as well as a walking/jogging track. Nestled in the natural surrounding beauty of our mountains, both tracks are the perfect respite from a hard day of hitting the books and home to our newly formed Trojan Cross Country team.
400 Meter Track is a hard surfaced oval with 6 lanes.
1 Mile crusher-fines walking/jogging track is a mostly level loop around the athletics fields.