Steve Bazarnic
---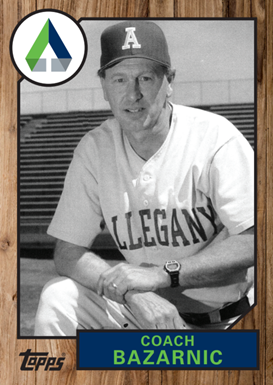 Bazarnic was the skipper of the Trojans Baseball Team for 48 seasons, compiling a career record of 1469-617-6 (.702). Bazarnic has been inducted into three separate Hall of Fames: MD Baseball Coaches HOF – 1991, NJCAA Baseball Coaches HOF– 1996, and Region XX Baseball Coaches HOF – 2000. Prior to the move to Division II in 2002 Bazarnic lead his team to 6 Maryland JUCO Division 'A' Championships, 6 Maryland JUCO West Division Championships, 8 Maryland JUCO Championships, 7 North East District Championships, and 7 Trips to the Division I Junior College World Series (1984, 1990, 1991, 1994, 1995, 1996, 1997) in Grand Junction, Colorado. After the move, the Trojans have won two District III Championships, and have made two trips to the Division II Junior College World Series in Millington, Tennessee in 2006 and Enid, Oklahoma in 2009. Additionally, during his coaching career Coach Bazarnic has produced 54 draft picks or free agent signees including 6 players who have spent time in the MLB (John Kruk, Stan Belinda, Steve Kline, Scott Sebol, Joe Beimel, and Scott Patterson). Bazarnic played short stop and third base for his alma mater Nittany Lions from 1964 – 1967 being named team MVP in '67. The Allegany County Commissioners honored Steve on June 6, 2019 for the impact he has made in Allegany County, for Allegany College of Maryland, throughout the nation, and most importantly, in the lives of his players naming June 10, 2019 as Steve Bazarnic Day in Allegany County.
After 49 years at ACM and after 48 seasons as the head baseball coach, Steve Bazarnic is retiring. To commemorate what Steve has done for the baseball program, for the College, and in the community, the Foundation has worked with Steve to establish the "Steve Bazarnic Athletic Fund" that will be used to support all athletics at ACM. We are inviting Steve's colleagues, friends, family, and former players to consider making a donation to the fund to recognize and thank Steve Bazarnic for his dedicated service to ACM. Donate today and receive a custom Coach Bazarnic baseball card (shown above). If you donate over $49, you will receive an autographed custom baseball card. Follow the link below to make a donation to the "Steve Bazarnic Athletic Fund" today and feel free to share with others. https://www.givecampus.com/4z7up8
---
Join Trojan Nation
---
Gold Membership:
$500+ Donation
Two Season Passes
Two Fitness Center Memberships
One Swim Club Membership
One Copy of the ACM Yearbook
Two ACM Athletics T-shirts
Silver Membership:
$200- $500 Donation
Two Season Passes
One Fitness Center Membership
One Swim Club Membership
One Copy of the ACM Yearbook
ACM Athletics T-shirt
Bronze Membership:
up to $200 Donation
One Season Pass
One Swim Club Membership
One Copy of the ACM Yearbook
ACM Athletics T-shirt
The dedication and support of our community allows over 100 athletes to thrive and excel at ACM through our Booster Membership and Honor Roll ads. We are asking you to become a member of the ACM Boosters today! Checks can be made payable to: ACM Athletic Department. Contact the Athletic Department at 301-784-5265 or acmathletics@allegany.edu.
---
Charitable Donations to ACM Athletics
---
If you would like to make a charitable donation to ACM Athletics, please visit the ACM Foundations webpage for more information.