Play ball!
The Allegany College of Maryland Baseball Program has a proud history. The Trojans played their first three spring seasons at nearby Donahue Field before moving to the on-campus field affectionately referred to as "The Rock." The baseball program has gone to the NJCAA World Series nine times. 53 former Trojans have been drafted or signed professional baseball contracts, including six big leaguers. In the past ten years, Allegany Baseball has sent players onto seven different NCAA Division I schools and 16 different NCAA Division II schools. ACM Baseball proudly continues the tradition that was established over the past half-century.
---
Allegany College of Maryland's 2020 Baseball Roster: Left to Right: Head Coach Mike Carter Assistant Coach, Mike Carter Sr, Matthew Gonzalez, Chase Hudson, Alex Garban, Anthony Andres, Andrew Butts, Jason Altuve, Brendan Brady, Sylvester Graham, Ethan Stewart, Steven Barreto, Zach Johnson, Eliah Lashley, Noah Zimmerman, Troy Fink, Gage Shaffer, Casey White, Wyatt Lepley, Gavin Rush, Sebastian Stewart, Ryan Butler, Garrett Pullium, Robert Fernandez, JT Stevenson, Jakson Bauer, Dakota Tyner, Tyler Arnold, Assistant Coach Mike Bittner, Pitching Coach Gary Tipton.
---
ACM Baseball Awardees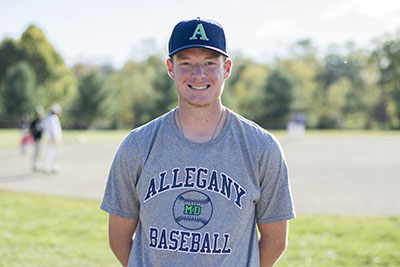 Joe Bodmer
2017-18
All-Academic Award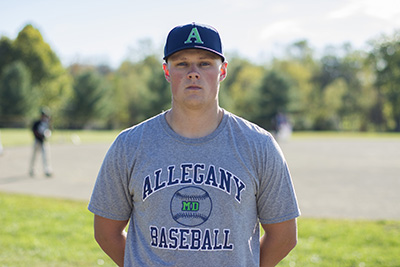 Jared Hose
2017-18
All-Academic Award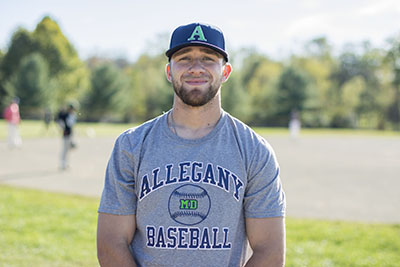 Dan Fry
2017-18
All-American
---
2021 Men's Baseball Roster
Mason Heyne, Mike Carter, Sr.
NO.
PLAYER NAME
POS
B/T
HT
WT
CLASS
HOMETOWN
HIGH SCHOOL
Altuve, Jason
Miami, FL
Miami Dade
Andres, Anthony
Sunrise, FL
Piper
Berryman, Nick
St. Petersburg FL
Keswrole Christian
Brady, Brendan
Sunrise FL
Piper
Butler, Ryan
Stafford VA
Brooke Point
Butts, Andrew
Berkeley Springs WV
Berkeley Springs
Dhima, John
Frederick MD
Urbana
Fernandez, Robert
Miami FL
Father Emiliano Tardif
Fogle, Thomas
Frederick MD
Walkersville
Gomez, Brandon
Bronx NY
Riverdale Kingsbridge Aca
Gonzalez, Matthew
Santiago, Dominican Republic
John Carroll
Hudson, Chase
Summer Hill PA
Forest Hills
Huffman, Ethan
Viera, FL
Viera
Johnson, Zach
Southfield MI
Southfield Christian
King, Trent
Surrey Province, BC
Surrey Christian
Lashley, Eliah
Lugoff WV
Chapin
Lepley, Wyatt
Uniontown PA
Uniontown Area
Lopez, Marvin
Tamarac FL
Coral Springs
Luttrell, Jeff
Martinsburg WV
Hedgesville
Pullium, Garrett
Mechanicsville MD
Choticon
Rush, Gavin
Broadway VA
Broadway
Shaffer, Gage
Ridgeley WV
Frankfort
Stevenson, JT
Cumberland MD
Fort HIll
Wobb, Justin
Kennesaw, GA
Harrison
Zimmerman, Noah
Middletown PA
Middletown
---
2021 Men's Baseball Schedule
March 2021
Mon
Mar 1
Shenandoah
DH
Away
2 pm
Sat
Mar 6
CCBC Catonsville Campus
DH
Home
12 pm
Tue
Mar 9
Frederick CC
S
Away
3 pm
Sat
Mar 13
Harford CC
DH
Away
12 pm
Sun
Mar 14
Westmoreland College
DH
Home
12 pm
Tue
Mar 16
Garrett College
DH
Away
1 pm
Wed
Mar 17
Cecil College
DH
Home
1 pm
Sat
Mar 20
CCBC Essex Campus
DH
Away
12 pm
Tue
Mar 23
Hagerstown CC
S
Home
3 pm
Fri
Mar 26
Westmoreland College
DH
Home
12 pm
Sat
Mar 27
Lackawanna
DH
Home
12 pm
Sun
Mar 28
Shenandoah
DH
Away
12 pm
April 2021
Thur
Apr 1
Hagerstown CC
S
Away
3 pm
Sat
Apr 3
CCBC Dundalk Campus
DH
Home
12 pm
Wed
Apr 7
Westmoreland College
DH
Away
12 pm
Thur
Apr 8
Frederick CC
S
Home
3 pm
Sat
Apr 10
Montgomery College
DH
Away
12 pm
Tue
Apr 13
Prince George's CC
DH
Away
2 pm
Thur
Apr 15
Westmoreland College
DH
Away
12 pm
Sat
Apr 17
Cecil College
DH
Away
12 pm
Sun
Apr 18
Shenandoah
DH
Home
12 pm
Tue
Apr 20
Garrett College
DH
Home
1 pm
Sat
Apr 24
Chesapeake College
DH
Away
12 pm
Sun
Apr 25
Anne Arundel CC
DH
Home
12 pm
Fri
Apr 30
Monroe College
DH
Home
1 pm
May 2021
Sat
May 1
College of Southern Maryland
DH
Away
12 pm
May 4
Region XX Play in Game
11 am
May 7-9
Region XX Tournament
TBA
May 15-16
NE District Tournament
TBA
---
Discover more...
---
::;